Last September, after overcoming a series of challenges that included a pandemic, floods, and permitting delays, the Tipsy Flamingo opened in downtown Miami. The bar combines Miami vibes with cutting-edge cocktails in a fun and flirty atmosphere.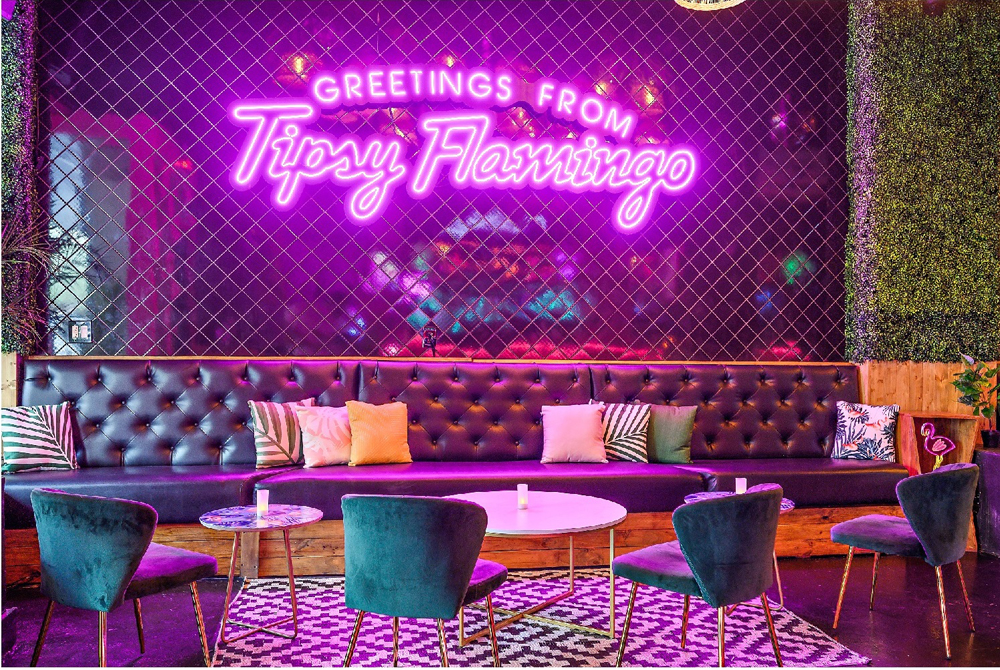 Developed by Last Call Hospitality Group (the group behind other Miami locales Redbar and Sweet Caroline Karaoke Bar), the Tipsy Flamingo is co-owned by Juan Marcos Rancano, Dobry Dimitrov, and Antar Sosa.
Last Call Hospitality Group decided to open this third bar concept to fill the missing gap between upscale, luxurious venues and dive bars in the downtown Miami area. "There's no in-between where someone can go and enjoy an upscale atmosphere and quality drinks but still dance, have a good time, and enjoy good music," says Rancano. "We decided to create a bit more of an elevated cocktail concept that combines the fun atmosphere of a bar with the trendy and intimate feel of a lounge."
It was an uphill battle stepping in to fill that role. Rancano says the team signed the lease in October 2019 with the intention of opening in March 2020—and we all know what showed up on the scene that month.
"It was tough because not only did the pandemic shut us down, but thankfully, we had a really understanding landlord that worked with us throughout the whole process because it could have gone the other way, which we saw a lot of."
Getting through the pandemic was just the first challenge. When it finally came time to pull permits and start opening, the city itself wasn't ready. "There were not enough city employees," says Rancano. "People didn't want to come out and do inspections and all that stuff. So that obviously delayed the opening process a lot."
On top of that, the building that the 1,300-square-foot bar is housed in is very old and has had a lot of issues. "We had a flooding issue right in the beginning. The first two days, the bar flooded really badly, and we had to kick everybody out and close for a few days," says Rancano. "Then right before New Year's, we had a contractor working in the building doing some renovations, and they hit a water pipe that flooded the whole bar again. We had to buy new speakers. Both those times we got really lucky, my partners really stepped up, and in two days we were able to solve both of those problems."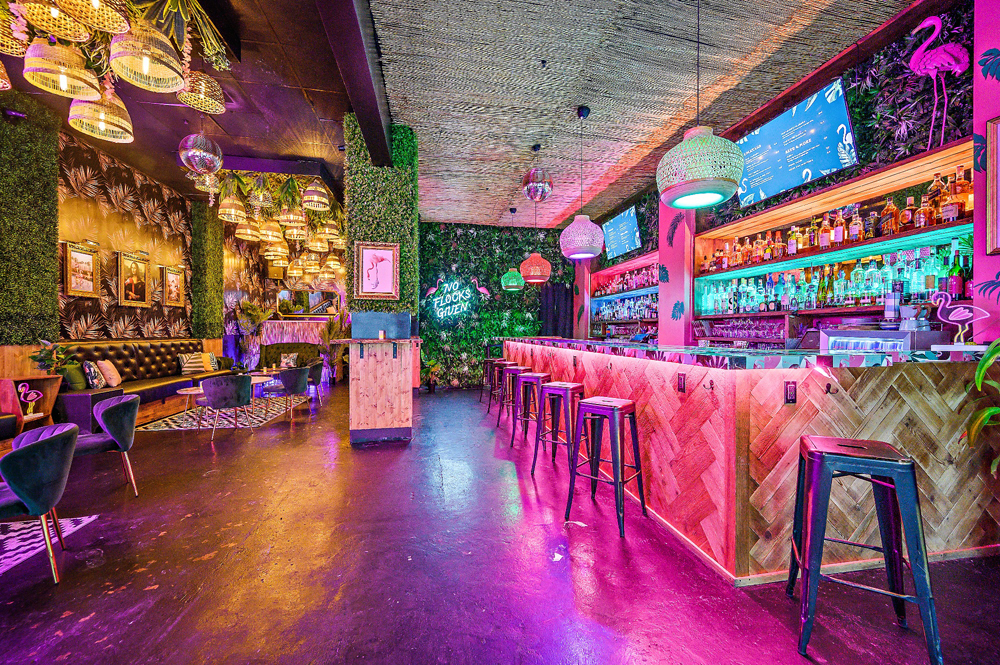 Tipsy Flamingo—like so many other bars now—also had to navigate the labor shortage when looking for staff ahead of its opening. "Thankfully, Tipsy Flamingo is not a huge bar, so we were able to hire people pretty quickly, but it was still a bit of a challenge,"
says Rancano.
Fortunately, Last Call Hospitality Group has always focused on employee retention, which Rancano says is now more important than ever. "You need to focus on creating culture, on treating your employees the right way, on listening to their complaints and their feedback, and seeing how you can improve," he says. "[This way] you don't find yourself in a position where you're turning over employees on a monthly basis, but you're working hard to keep the ones you have. And then the labor shortage or issues of trying to find talent and keep them is not really an issue because you're able to retain employees."
Something else that Last Call Hospitality Group has been focusing on is the guest experience, and this is on full display at the Tipsy Flamingo. "People want things to get them out of their heads, and they don't just want to go to a bar anymore. They want to go to an experience," says Rancano. "When you walk into Tipsy Flamingo, it's an experience. The LED colors, the lights, the music that we're playing, the cocktails—everything ties in. And it makes the customer feel like they're experiencing something new or something fresh.
"We try to pay attention to every single detail as much as we can to not get people taken out of that experience. We don't want wires to be shown, we don't want it to be dirty. We want the customers to feel like they're getting lost in the Tipsy Flamingo experience from the beginning to   the end."
Rancano says the partners even have plans to eventually extend the Tipsy Flamingo experience into a brand. "So doing apparel, to-go cocktails, and definitely playing around in that field of take-home memorabilia and things that say Tipsy Flamingo," he says.
The aesthetics of Tipsy Flamingo draw inspiration from Miami's natural elements with a color palette of greens, purples, and hot pink with walls decorated in playful vintage palm leaf wallpaper and faux foliage. "Basically, we took the best characteristics of Miami from the tropical ambiance and colors to the sounds and blended them together to create a unique and intimate venue that's rare to find in this city," said Rancano, in a press release.
A collection of eclectic artwork also decorates the walls (think the Mona Lisa cuddling a flamingo) as well as a variety of neon signs, including one that says, "No Flocks Given."
"We didn't want to take ourselves too seriously, and we thought that we could accomplish that by having some artwork that was maybe a little bit more funky, a little bit more fun," explains Rancano. "We did some research and found some art by some really cool artists."
The vibe of the Tipsy Flamingo also shifts depending on the time of day thanks to changes in lighting, music, and seating arrangements.
"We have pillows laid out on the couch area a certain way, the lights at the bar are set at a certain percentage of brightness, and then we have a specific playlist that we play that is kind of like funky and slow, deep house music, a little bit more chill," explains Rancano. "But as soon as the DJ comes in at 9 p.m. and starts getting more lively with the music, we dim the lights a little bit, remove all the pillows from the seating area, and then we remove the stools from the bar area to make it more like a lounge, dancing kind of vibe."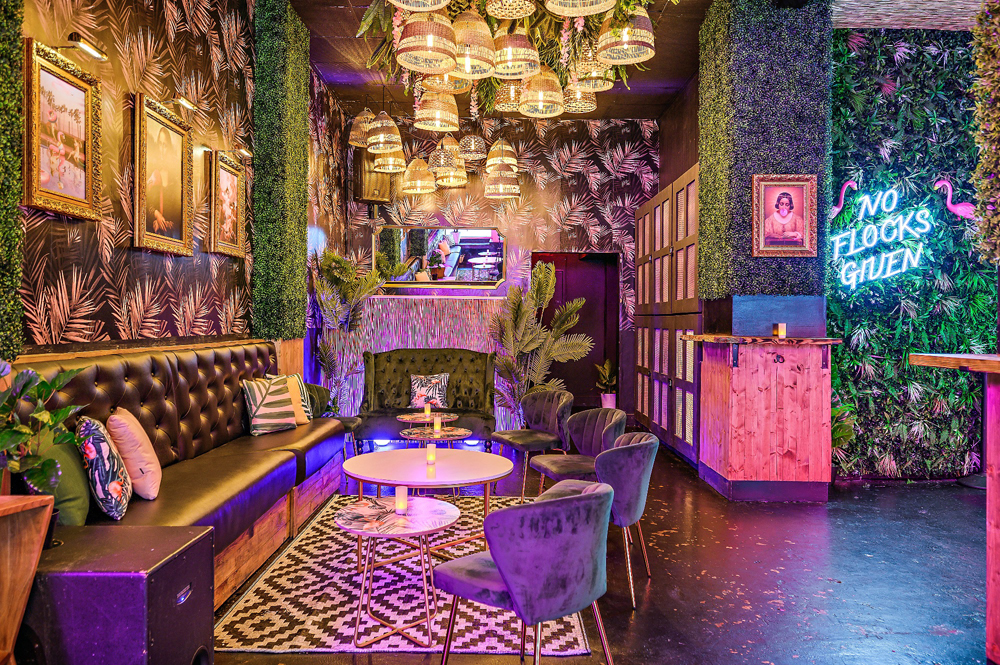 The cocktail menu, which was created by bartender Marco Balza, adds to the Tipsy Flamingo's experience and Miami vibes. Each drink was designed to pay homage to and showcase the city's personality as well as to celebrate its Cuban population. The Tipsy Colada is a play on Cuban coffee and includes Diplomático Planas Rum, coffee, vanilla syrup, and salted caramel. It is served from a coffee percolator.
The cocktail My English is Not Very Good Looking is named after a lyric from Cuban-American artist Celia Cruz. It contains Canaïma Gin, guava marmalade, lime juice, orange bitters, cream cheese foam, and Galleta Maria cookie crumbs. "The cocktail is like a guava pastry that Cubans and Miamians usually like to eat," explains Rancano.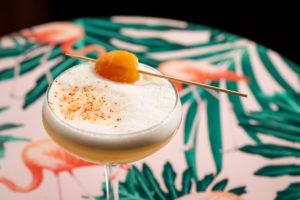 The Tipsy Flamingo is already working on expanding the menu and changing out the cocktails over time to keep things fresh.
It's also working on bringing in a food menu through a partnership with Reef, a Miami tech company with a concept called Second Kitchen.
"Basically they're going to start delivering food from local concepts to Tipsy Flamingo so we can actually start providing bites," explains Rancano, who says the first menu has already been drafted and should be rolling out soon.