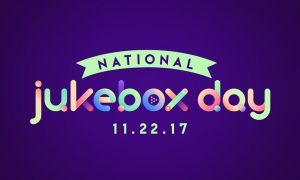 TouchTunes, the largest interactive music and entertainment platform in over 65,000 bars and restaurants across North America, is celebrating this year's National Jukebox Day with unique artist and fan jukebox stories and a sweepstakes to win a $2,500 shopping spree. Jukebox fans can be automatically entered to win once a day from November 1st – 22nd by playing any song via the TouchTunes app. In addition, fans can enter the sweepstakes on select TouchTunes jukeboxes nationwide.
In 2016, the Registrar at National Day Calendar, in partnership with TouchTunes, officially declared the day before Thanksgiving as National Jukebox Day. The Wednesday before Thanksgiving has become a de facto holiday when friends and family come together to reminisce, rekindle friendships and play great jukebox music at local bars, restaurants and other social establishments nationwide. This year National Jukebox Day will fall on November 22.
To amplify the awareness and celebration of National Jukebox Day, TouchTunes will feature exclusive jukebox-related stories from popular artists, fans and select venues, to be released across social media, TouchTunes jukeboxes and at www.jukeboxday.com. Jukeboxday.com will also feature a history of the jukebox and fun interactive creative that fans and venues can share across their social networks. Fans will also have the opportunity to win free TouchTunes song credits (redeemable to play songs) through a fun interactive game that challenges them to match album jackets with the correct artist. In addition, there will be a customized National Jukebox Day experience on TouchTunes PhotoBooth, which is available for free across thousands of jukeboxes nationwide.
TouchTunes has partnered with Waffle House® restaurants to provide Waffle House Regulars Club members a free waffle coupon, redeemable through National Jukebox Day (11/22/17) at Waffle House locations nationwide. Waffle House will be promoting National Jukebox Day to their customers both in-venue and through their social media channels. For more information about the Waffle House Regulars Club visit https://www.wafflehouse.com/regulars-club/.
In addition, Foursquare will be celebrating National Jukebox Day by sending targeted messages to millions of people using the Foursquare City Guide and Foursquare Swarm apps, and via Foursquare's social media channels.
Lastly, TouchTunes has partnered with the three major record labels to create a custom National Jukebox Day playlist available on TouchTunes jukeboxes that features the perfect mix of current and nostalgic hits to enhance this year's celebration.