We round out our Women's History Month profile series with Damrak's Head Distiller of Damrak Original Gin and Damrak Virgin 0.0 Monique ten Kortenaar.
As the granddaughter of a perfumer, Monique has "tasting and smelling" genes in her blood, which have inspired her to pursue her career in food and beverage sciences. Currently based just outside of Amsterdam, she graduated from the city's Chemical Laboratory Technique College. She then attended the University of Applied Sciences – Food and Beverages Technology in Den Bosch, while also working as a chemical analyst and Food and Beverages technologist. Throughout her 24-year career, she has held positions such as Senior Flavorist Assistant & Product Developer Beverages at Naarden International B.V./Givaudan, working on global recipe & development; and Sensory Panel Leader Snacks EAME at Givaudan, where she handled training and leading a taste panel while also conducting and analyzing tests.
When she is not handling distillation and R&D for Damrak, Monique can be found working as the Dutch Ambassador of the Scotch Malt Whisky Society, singing in her rock band, or spending time with her three children.
Read our Q&A with Monique, below!
Bar Business (BB): Tell our readers more about Damrak.
Monique ten Kortenaar (MTK): Damrak is the first global gin brand to offer the spirit with and without alcohol. It all started with Damrak Original – a gin with a lot of fresh citrus notes next to the more subtle traditional juniper notes. It is distilled in the heart of Amsterdam, next to the Dam Square and the street Damrak, which is where the name comes from. Last year we launched the non-alcoholic version of our beloved gin – Damrak Virgin. After working on the recipe for over two years, we are thrilled to offer our customers the choice of Damrak – with and without alcohol.
BB: What do you love most about the hospitality industry?
MTK: I love how easy it is to connect and make friends within the industry just by sitting at a bar, talking to the bartenders and the people near you. Even when you are going out by yourself, you never feel alone. Almost every time I go out, I end up having unexpected fun talks or meeting new people. I really love how the hospitality industry has such an open and nice atmosphere. Most of my friends are from the industry.
BB: What has been your biggest challenge?
MTK: My biggest challenge as a woman in the industry has been to prove myself. A lot of people tend to think that as a female distiller, you do not know as much as your male colleagues do. Why? I do not know. My background is mainly in chemistry and product development and I did my Food and Beverages Technology education at the University of Applied Sciences, so I do have all the academic knowledge on top of my experience. Sometimes even more than my male colleagues!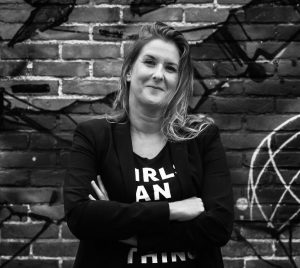 And on the physical side, we might not always be as strong as men, but I manage perfectly fine. A few times I have shocked the men I've worked side by side with, who were surprised at the numbers on the scale of the barrel I had just manually lifted and pushed.
Sometimes people will ask me "Why did you, as a woman, choose this profession? A man choosing this profession, I completely understand, but a woman…"
Now, if we're talking about my biggest challenge in the distilling/product development, that's another story. My biggest challenge with making Damrak Virgin was to get the citrus notes and the alcohol impression into the product. The main flavor in citrus comes from the oils in the citrus fruits. They do not dissolve (well) in water, so we needed to find a way for this to occur. It was a long journey in the making of the final product, but we succeeded.
BB: Have you observed any recent trends in gin?
MTK: I've seen quite a few! Notably, I've seen a rise in:
Non-alcoholic versions (cannot call it gin though)
Pre-made/pre-bottled G&Ts or gin-based cocktails. Cans are being used more and more for these drinks. Also, home bar packages (to create your own cocktails at home) have been gaining popularity.
More local gins
Seasonal gins
Crossovers between gins and other spirits (like genever, tequila, etc.)
BB: Damrak recently launched a spirit-free version of its gin, Damrak Virgin 0.0. Do you foresee the demand for spirit-free products continuing? Why?
MTK: Yes, I do. You can already see it happening. There are more and more alcohol-free products linked to spirits in the market. People are getting more into mindfulness (and mindful drinking), health and wellness, and just a better lifestyle overall. People want to be able to drink a nice (and fancy) beverage with their friends even when they need to drive home. They don't necessarily want to only have regular soft drinks.
MTK: Just keep doing what you love to do and fight for it! Show them what you are capable of. You are worth it and will gain respect by doing so.
And: network! Find people who believe in you and would advocate for you. If you are just starting in the industry/job, look for a mentor, someone who can teach you and guide you in the right direction.
BB: Do you have a favorite Damrak recipe you'd like to share?
MTK: Damrak Original Gin I always drink with tonic and an orange wheel plus a lavender sprig.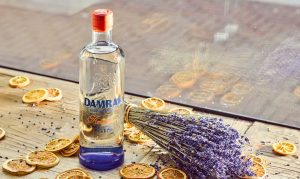 On our website you can find several great recipes as well!
For the Damrak Virgin, I like the 'Guilt-free Biscotti' and the 'Virgin Mule' the most, but it's really hard to say for sure. It depends on the moment, really.
Guilt-free Biscotti
2 oz Damrak Virgin
½ oz fresh lemon juice
½ oz orgeat
3 dashes of Angostura bitters
Virgin Mule
1.5 oz Damrak Virgin
4.5 oz ginger beer
¼ oz fresh lime juice