Next in our series on 2022 hospitality trends, we cover a recently released 2022 Hospitality Trends Report by hospitality marketing and media relations firm af&co. and creative strategy and brand communications agency Carbonate.
Now in its fourteenth edition, the theme of this year's hospitality trends report is Through the Looking Glass, which reflects the topsy-turvy nature of the last two years and the need to chart a novel path forward in this strange new world.
Drinks of the Year: A Return to Nostalgia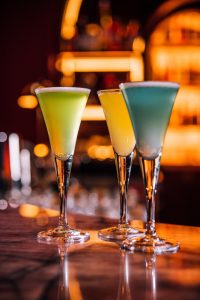 For 2022, af&co. and Carbonate say that bartenders nostalgic for a time past will continue to return to '80s era drinks, updating them for modern tastes with less sugar, fresh squeezed juices, and more natural ingredients.
The report says that while the Espresso Martini was "the" drink of 2021, others will come to join it at the top in 2022 like the Amaretto Sour, Midori Sour, and Tequila Sunrise.
We've already started to see this trend with new bars like JoJo's Beloved centering their entire ambiance and menus around the '70s and '80s era.
Curated Menus
According to the report, following the wave of social justice movements in 2020, the hospitality industry recognized the need and opportunity to shine the spotlight on minority and woman-owned beverage companies by curating lists largely or exclusively from BIPOC and female-led producers.
For example, at the restaurant Esmé in Chicago, Illinois, Operations Manager/ Beverage
Director Tia Barrett put together a beverage menu that features producers of color and women producers who have demonstrated strong philanthropic efforts.
The Future of Labor in the Hospitality Industry
The 2022 report predicts the robots will takeover—at least partly. The automation of bars will include robotic "bartenders," which can help solve labor woes, produce consistent drinks for controlled costs, and enable faster service in high-volume environments.
The report says expect to see them first at stadiums, large festivals, and events, and it gives examples of a few robot wonders.
Rotender can serve customized cocktails in 30 seconds or less, allowing patrons to select their liquor and the mixer of choice.
Cecelia.ai is an interactive bartender that offers a wide range of cocktails that she can create, using precisely measured ingredients and recipes that were crafted by renowned mixologists.
Revolmatic is a countertop machine with a rotating tray that can dispense 450 beers an hour.
For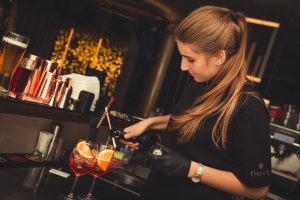 your bar, maybe robots aren't the solution to the "Great Resignation," which has seen many leave the hospitality industry workforce in droves. In order to attract and retain top talent, operators must both create competitive compensation packages and foster a positive company culture.
According to a recent survey by Culinary Agents, 31% of hospitality workers are looking for career growth opportunities in a job description, and that 30% want more transparency in job details. The report gave examples of bars/restaurants offering PTO, 401Ks, DEI training, and incentives for employee referrals.
The report also mentioned the adoption of more flexible service models, even the elimination of the traditional division between front and back of house and cross-training staff to take on multiple roles. This new service model fosters equal compensation, eliminates hierarchy, and helps protect against being short staffed at a time when labor is already scarce.
Beverage Trends
af&co. and Carbonate's report finds that a number of popular flavors, cocktails, and spirits/beer/wine will dominate 2022: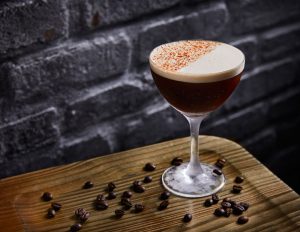 Coffee and coffee cocktails
"Smoothie" style beers packed with fruit puree and featuring a thicker consistency
Unique gins featuring local flavor profiles
Singani, a high-altitude Bolivian brandy
White pinot noir, spurred on by western wildfires and climate change
Driving Design
The 2022 trends report also explored the styles likely to influence hospitality design in the coming year:
Checkered patterns are on the rise
Postmodernism design returns, which is characterized by saturated colors,
funky patterns, and strong contrasts
If you're interested in viewing the entire report—including a look at food trends—download the full report.