Speed Rack, a global all-womxn+ bartending competition that has raised more than $1.25 million dollars in the fight against breast cancer over its 10-year tenure, is pleased to host the Season 9 Championship at The Graduate Hotel Roosevelt Island in New York
City on Monday, September 20, 2021 from 4:00pm-7:30pm ET.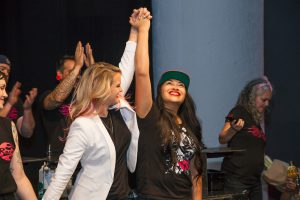 Bringing together 16 nationally acclaimed competitors who earned the title of Miss Speed
Rack in their regional contests, these top bartenders will duke it out round-robin style, seeing who can shake the fastest and best cocktails for a panel of world-renowned judges. With assessments made based on a strict set of criteria, the winner of the contest
will be named the 2021 Speed Rack Champion.
"We never imagined Season Nine would go on quite this long, nor did the competitors," shared Speed Rack Co-Founder, Lynnette Marrero. "The ongoing commitment of this group is nothing short of incredible and we are grateful to be able to bring this season to a close and acknowledge their dedication and support for breast cancer in the process."
Due to an abundance of safety, the Speed Rack NYC event will host a limited number of guests and abide by COVID safety guidelines as instructed by the city and the CDC, including mandatory proof of vaccination. For at-home viewers, the Championship event will be broadcast in conjunction with Tales of the Cocktail via the program's platform on September 23 at 3:00pm ET. All are encouraged to register for the 2021 Tales of the Cocktail event and follow along with the ladies as they vie for the title. For those who would like to donate to Speed Rack's worthy cause, donations may be directed towards the organization's beneficiaries, The Pink Agenda and Bright Pink.
Speed Rack Championship 2021 – Season 9
16 outstanding bartenders — listed below — from all over the country were selected via
online applications, determined based on merit and skillset, then invited to compete in their regional finals to qualify for the Speed Rack Championship. On September 20, the regional winners will compete in a qualifying round that tests not only their speed,
but also their aptitude, making four cocktails featuring Speed Rack's sponsor brands (noted below).
They will each make a round of cocktails selected at random, culled from a list of 50 spirit
industry-standard recipes. The judges request their selected drink from each competitor and then evaluate it based on accuracy, taste, and presentation. The swiftest and most skilled womxn move forward to the next round — the final showdown, where the winner
will be the Speed Rack Champion 2021.
A global bartending competition by women, for women
Speed Rack is the first global competition of its kind to highlight the bar industry's leading
women, with 100% of the proceeds going directly to breast cancer education, prevention, and research. The Speed Rack Championship 2021 competition will partner with The Pink Agenda, a non-profit committed to motivating young professionals to raise money and
awareness for breast cancer research and care, and Bright Pink, a non-profit focused on the prevention and early detection of breast and ovarian cancer in young women, receiving the proceeds from the event.
Founded by USA industry veterans Ivy Mix and Lynnette Marrero in 2011, Speed Rack shines a spotlight on womxn+ mixologists thriving behind bars around the globe, while raising money for breast cancer research, education, and prevention. During the ten years Speed Rack has been operating around the globe, the event has raised over $1.25 million
for breast cancer charities, operated in eight countries, and had over 2,000 women compete for the title of their region's Miss Speed Rack. To get an idea of the event and its energy, check out Speed Rack's YouTube channel or watch the Season 6 finals in New York.
Speed Rack Season 9 Championship 2021 Judges
Cha McCoy: Sommelier, Public Speaker, and the founder of Cha Squared Consulting LLC
Joaquín Simó: Pouring Ribbons (He/Him)
Julie Reiner: Clover Club, Leyenda, Mixtress Consulting (She/Her)
Chef Megan Brown: Executive Chef The Graduate Hotel Roosevelt Island (a Red Rooster, The Standard, and Ace Hotel alum) (They/Them/Chef)
Full list of Speed Rack Championship 2021 Competitors
Alex Rivera: Still Austin Whiskey Company (Dallas, TX)
Anna Lohmann: Navy Strength, Trade Winds Tavern, Walrus & the Carpenter (Seattle, WA)
Arianna Hone: High West Saloon, Post Office Place (Salt Lake City, UT)
Baylee Hopings: Bon Ton (Atlanta, GA)
Beth Serowsky: Lonesome Rose (Chicago, IL)
Genna Bestmann: The Owl Shop (New Haven, CT)
Irene Kern: ABV (San Francisco, CA)
Jessi Lorraine: Viridian (Oakland, CA)
Jessi Pollak: Spoon and Stable (Minneapolis, MN)
Kate Myers: Retrograde, Colorado Access (Denver, CO)
LyAnna Sanabria: Round Turn Distilling, Via Vecchia (Portland, ME)
Natasha Bermudez: Llama San (New York, NY)
Natasha Mesa: Bit House Collective (Portland, OR)
Sarah Jackson: Portland Hunt + Alpine Club (Portland, ME)
Sarah Troxell: The Toasted Coconut (Houston, TX)
Yolanda Baez: The Broken Shaker (New York, NY)
Season 9 Sponsors
Platinum Sponsors
Auchentoshan Single Malt Scotch Whiskey
Fords Gin
Four Roses Bourbon
Haku Vodka
Knob Creek Rye
Olmeca Altos Tequila
Gold Sponsors
Aperol
Campari America
Fever-Tree
Fratelli Branca: Fernet Branca, Carpano Antica
Luxardo and Luxardo Cherries
Silver Sponsors
Bounty Saint Lucia Rum
Chartreuse
Clément Rhum
Cointreau
Del Maguey Single Village Mezcal
Haus Alpenz
Heering
Iichiko
Laird
Lustau
Mr. Black Coffee Roasters & Craft Distillers
Plantation Rum
Seedlip
Singani63
St. Germain
Local Sponsors
Hella Cocktail Co.
Twisted Alchemy