Miles Gotcher knows from experiencing a lifetime of stomach issues, that ginger has many digestive benefits and can sooth stomachs. The problem is that existing ginger drinks are typically loaded with sugar and made with little or no real ginger prompting Gotcher to seek out a solution. What he created was Soov Sparkling Tonics, a line of better-for-you ginger drinks made with real ginger juice and other natural digestion-friendly ingredients and contains 80% less sugar than a ginger ale. Soov has no GMOs, no gluten, no artificial sweeteners, no stevia, and no caffeine. Soov also works great as a healthier and more natural cocktail mixer.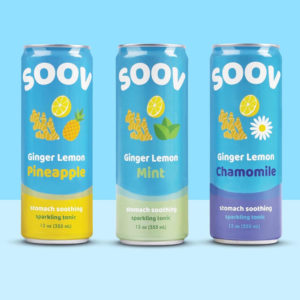 Soov is available in Pineapple, Mint and Chamomile flavors. Soov Pineapple combines sweet pineapple and spicy ginger in perfect harmony. Soov Mint has a bold, authentic ginger taste complemented by lemon with a refreshing minty finish. Soov Chamomile is Calming in a Can, ginger, and lemon forward with herbal chamomile notes making it complex and delicious. "Have one when you want to unwind and relax."
I wanted to create something that would make your stomach smile," said Miles Gotcher, founder of Soov. "Anyone can enjoy it with or after a meal as a non-alcoholic digestif, in cocktails as a lower sugar alternative to ginger beer, or just as a soda replacement." Soov is available online and in stores across Northern California.
Founded in 2018 by Miles Gotcher Soov tonics were formulated with the help of dietitians, food scientists and beverage experts.