We're more than halfway through Dry January, and if your non-alcoholic cocktail menu is getting a little tired, try pepping it up with one of these unique creations.
Ghia Romarin
Ingredients: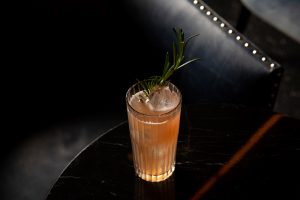 1 oz Grapefruit Juice
.5 oz Rosemary Syrup
.5 oz Simple
.5 oz Lemon Juice
3 oz Ghia Le Spritz
Directions:
Combine all and shake. Add Le Spritz. Strain into collins glass, add ice, and garnish with rosemary sprig.
Recipe from BAR CHRYSTIE.  Photo by Liz Clayman.
Passionfruit Mojito
Ingredients: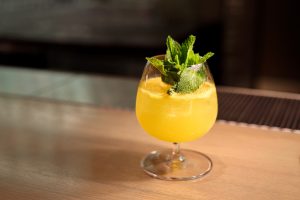 6 mint leaves
1.5 oz Passionfruit syrup
.75 oz lime juice
Soda
Directions:
Shake all ingredients except soda and strain into a snifter glass filled with iced cubes. Top with soda. Garnish with mint bouquet.
Recipe from Iris. Photo by Hanna Lee Communications.
Garnet Shandy
Ingredients: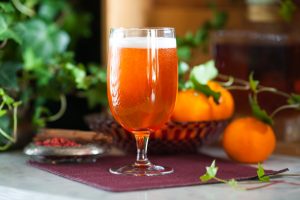 1 Cinnamon stick, whole
0.5 teaspoon Pink Peppercorns, whole
1 teaspoon Green Cardamom, decorticated (separated from the pod)
1 satsuma orange (or any winter citrus)
Cranberry Juice
*can also use other baking spices as desired*
Directions:
Measure 8 oz cranberry juice and set aside. Lightly crack spices and toast in a dry saucepan over medium heat until aromatic. Pour the cranberry juice over the toasted spices and cook over medium heat until it simmers. Turn heat down to medium low. Slice your winter citrus and add wheels to the pot and simmer for five minutes. Strain and sweeten with honey (or other preferred sweetener). Cool and keep refrigerated.
To mix:
Select your favorite tulip glass or flute. Fill most of the way with Suntory ALL-FREE, and measure 1 oz to 1.5 ounces of spiced cranberry base into the glass. Pour slowly so that it layers for a fun two-tone effect.
Melon Lemonade
Ingredients: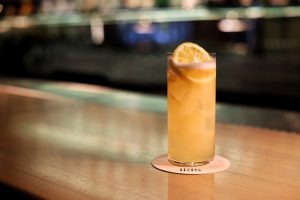 1.5 oz Melon syrup
1.5 oz lemon juice
2 oz water
Directions:
Shake all ingredients together. Strain into a highball glass filled with iced cubes. Garnish with a lemon wheel.
Recipe from Iris. Photo by Hanna Lee Communications.
St. Clement's
Ingredients:
3.5 oz good quality orange juice
3/5 Fever-Tree lemon Tonic Water
Orange wheel to garnish
Lemon wheel to garnish
Directions:
Fill a highball with ice cubes. Pour over the orange juice and tonic. Garnish with an orange and a lemon wheel. For even more flavorful drink, squeeze some additional fresh orange wedges into the glass.
Coco-nuts for You
Ingredients: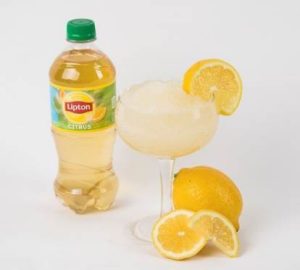 4oz Lipton Green Tea Citrus
4oz Coconut Water (try O.N.E. Coconut Water)
Small Cube Ginger (about 1′) Peeled and Diced
Directions:
Peel cube ginger (about 1″) and roughly dice. Place in a shaker tin and muddle. In a blender, add 4 oz Lipton Green Tea Citrus, 4 oz coconut water and 3-4 ice cubes. Blend until smooth. Pour into glass with muddled ginger at the bottom. Garnish with a citrus wedge.
The Honey Greyhound
Ingredients: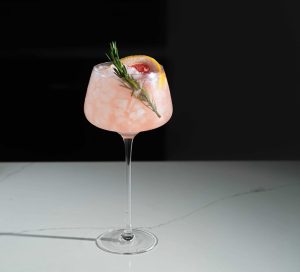 1 part Optimist BRIGHT
Sparkling water
1/4 oz Honey
Grapefruit slice
Rosemary sprig
Directions:
Build OPTIMIST and grapefruit juice in a glass and stir well. Add in ice and top with sparkling water. Drizzle in honey and garnish with rosemary & grapefruit slices.