Skrewball Peanut Butter Whiskey, in partnership with Infinium Spirits, announced today its expansion into Canada, beginning in Alberta. The San Diego-based original peanut butter whiskey brand, which saw rapid expansion with nationwide distribution in the United States in late 2019, will begin fulfilling Canadian purchase orders this month. The brand plans to continue its entrance into other Canadian provinces in early 2021.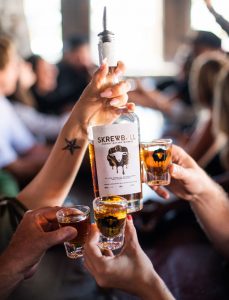 "We are excited for the opportunity to introduce Skrewball Peanut Butter Whiskey into Canada, as this is a critical marketplace and important foundation of valued customers," said Carl Carlson, President of Skrewball Peanut Butter Whiskey. "As we initiate our strategic launch into additional international markets, we appreciate that the Canadian consumer is passionate about Skrewball, as evident by the overwhelming volume of inquiries regarding our availability in Canada."
Since its launch in 2018 by husband-and-wife team Steven Yeng and Brittany Merrill Yeng, Skrewball Peanut Butter Whiskey has grown exponentially. After instant success locally in San Diego, the brand announced a partnership with renowned leader in the spirits industry, Infinium Spirits, as it targeted rapid nationwide distribution in late 2019. The partnership and expanded distribution network solidified Skrewball Peanut Butter Whiskey's place as a pioneer in the alcoholic beverage industry.
This nationwide growth was met with a demand from neighboring countries, including Canada. With Infinium's partnership, the brand's expansion into Canada will begin in Alberta in late 2020, with planned distribution in additional provinces in early 2021.
"We are immensely proud to exclusively represent Skrewball in Canada and excited to launch such an exciting brand through our existing route to market and distribution channels there," said Shane Fitzharris, Senior Vice President and General Manager at Infinium Spirits International. "Infinium Spirits is looking forward to fostering our existing USA partnership with Skrewball and introducing the brand for the first time in the Canadian market, which we see as pivotal."
"Our partnership with Infinium elevated Skrewball Peanut Butter Whiskey on the national level, and we're thankful for this continued partnership as it brings us international," said Brittany Merrill-Yeng, co-founder of Skrewball Peanut Butter Whiskey. "Strengthening our presence across the entire continent is one of our key focuses of the months ahead, and we can't wait for Canadians to join our krew."
A recognized trailblazer in the spirits industry, recently named Best New Product at 2020's  Market Watch Leaders Awards, Skrewball Peanut Butter Whiskey will continue to expand nationally, as it simultaneously targets aggressive international expansion in the coming year.
"This year solidified Skrewball Peanut Butter Whiskey's reputation as one of the industry's fastest-growing brands," said Steven Yeng, co-founder of Skrewball Peanut Butter Whiskey. "As we look towards 2021, we're excited to continue on this growth trend with expansion into new areas. This is just the beginning."