Regatta, creator of renowned Regatta Classic Bermuda Stone Ginger Beer along with a full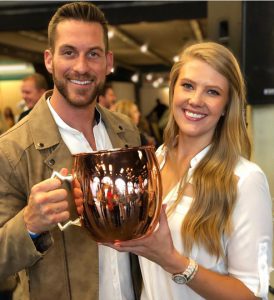 range of craft mixers, partnered with The Mule Majors in Denver in April to mix it up with Denver's top bartenders.
Throughout the daylong festive event, 2,200+ revelers, local influencers and judges sipped on samples of distinctive handcrafted Moscow Mule cocktails, created by 15 different local restaurants and bars, to unveil the two top honors – "Peoples Choice" and "Judges Choice" awards for Denver's Best Mule cocktail. Cocktail entries were all made with award-winning Regatta Classic Bermuda Stone Ginger Beer and included a wide range of inspired twists on the classic drink served in the iconic polished copper mug.
And, the winners are:
People Choice Winner – Revel Social's "The 19th Hole", created by Kristin Berndt, made with Revel Social Código, Rosa Tequila, house made peach syrup and topped with Regatta Ginger Beer. Garnished with a Palisade peach and 19th hole flag.
Judges Choice Winner – Avanti Food & Beverage's "The Georgia Mule", created by Lee Caldwell, made with Spirit Hound "White Dog" Moonshine, peach liqueur, mint-turbinado syrup, lemon juice, Angostura Bitters and topped with Regatta Ginger Beer.
Lee Caldwell, Bartender and creator of the winning mule cocktail for Avanti Food & Beverage commented, "It was a pleasure working with Regatta at the Mule Majors, and the spiciness of the ginger beer provided the perfect compliment to the other elements of my Georgia Mule.  I could not imagine a better ginger beer to have worked with for the event."
Carly Witzburg, the event's co-founder, commented, "We were thrilled to work with the entire team and fans at Mule Majors to help make this year's event a great day of fun and a huge success for the community and, of course, to crown local establishments, Revel Social and Avanti Food & Beverage, as Denver's Best for their creative and tasty mule creations. We are honored to have partnered with Regatta Craft Mixers and offer their award-winning Classic Bermuda Stone Ginger Beer – a key ingredient in the winning cocktails and all of the amazing Mule recipes served."
Proceeds from the Mule Majors go to benefit the Big Brothers Big Sisters Sports Buddies of Colorado non profit, an organization committed to helping all children reach their potential through professionally supported, one-to-one relationships with volunteer mentors. We are thrilled to support this amazing cause."
Regatta Classic Bermuda Stone Ginger Beer, widely recognized as the industry standard, is a multi-year winner of the SIP Platinum Award as well as the SIP Consumer Choice awards for taste and packaging. In March 2019, Regatta debuted a range of new craft mixers including: Dry Citrus Sparkling Tonic, Regatta Royal Oak Ginger Ale and Regatta Pacific Sea Salt Club Soda join and Regatta Light Ginger Beer. The full line-up of Regatta premium craft mixers create a complex yet well-balanced flavor palate that mixes well with any spirit.