Q, the Brooklyn born-and-bred brand of spectacular mixers, announces today that it has received a $40 million investment from Eurazeo Brands to help further accelerate the company's growth.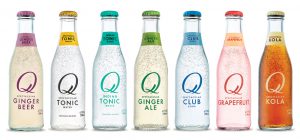 Born in a Brooklyn kitchen in 2007, Q Mixers elevates the cocktail with mixers crafted to the same standard of quality and sophistication as the world's best spirits. Designed as mixers, not sodas, Q mixers are less sweet, and pair the best ingredients with high carbonation to deliver a truly spectacular drinking experience. Today, Q Mixers is the fastest-growing premium mixer brand in the United States, and the number one mixer brand among top bartenders. Q mixers come in a variety of innovative and classic flavors all made without artificial sweeteners, and are proudly served in thousands of the country's leading restaurants, bars, and hotels. Consumers can purchase Q mixers at retailers nationwide including Safeway, Kroger, Target, Whole Foods, Total Wine, and Amazon.
Jordan Silbert, founder and CEO of Q Mixers said: "I started Q in my kitchen with nothing more than an idea. Today we are the leader of a rapidly growing category. This new investment will enable us to aggressively build on our position both in the US and globally. Eurazeo Brands' extensive resources and branding expertise, in combination with the team's food and beverage experience makes the firm the perfect partner as we enter our next and exciting phase of growth. We are changing the way people drink and together we will build this company into the dominant mixer brand. It doesn't make sense to mix great spirits with terrible mixers. Each and every time someone mixes a good spirit, it should be with Q."
Q Mixers will use the new funds to accelerate marketing activities, including the continued development of a strong consumer and bartender community, and to support Q's rapid expansion within both the grocery and on-premise channels.
"The US premium mixer market has reached an inflection point," said Ben Karlin, President and Co-Founder of Q Mixers. "Consumers who embrace premium spirits are awakening to the fact that they are ruining their drinks with low-quality mixers. Our growth is rapid and accelerating – but we are in the early stages of disrupting a category long dominated by tired brands that don't resonate with today's drinkers. Premium penetration in mixers substantially lags spirits, and we expect exponential growth in the years ahead. We will aggressively deploy resources to seize this opportunity. We look forward to working with Eurazeo Brands to scale our business and establish category leadership globally."
As part of Eurazeo Brands' investment in Q Mixers, Jim Goldman and George Birman will join Q Mixers' Board of Directors. Goldman is a Senior Advisor to Eurazeo and a seasoned food and beverage executive with 30 plus years of experience building and leading brands. As the former President and CEO of Godiva Chocolatier and the former President of Campbell Soup's North American Food and Beverage Division, he brings deep category expertise across marketing, strategy, sales, and operations. Birman has been a member of Eurazeo Brands' investment team since 2017 and brings food and beverage investing expertise from prior roles at VMG Partners and Heineken NV.
"Q Mixers' passionate and talented founders have created an innovative, high quality product offering which, in combination with experienced sales leadership, is well-positioned to drive strong growth in one of the only beverage categories yet to build a meaningful premium segment," said Goldman. "Eurazeo Brands will partner with the company to build distribution, expand the product pipeline to new flavors, and invest in marketing to boost awareness and drive sales. We look forward to working with the entire team to power continued growth."
Jill Granoff, CEO of Eurazeo Brands, added, "Q has established itself early on as a differentiated and exciting brand led by a passionate and entrepreneurial team. Given the tremendous growth opportunity within this category, we are excited to be partnering with Q."