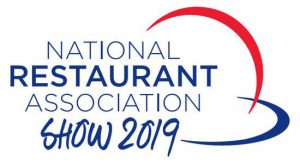 The National Restaurant Association Restaurant, Hotel-Motel Show® is excited to announce the more than 100 education sessions at the National Restaurant Association Show at Chicago's McCormick Place from May 18-21. These sessions offer Show attendees the opportunity to grow their industry knowledge while leveraging and expanding their professional and business networks. This year attendees can mix and match education specific to them with specialized programming like Menu Trends: 2020 and Beyond, Digital Media Slam, Women Leaders Panel, and KI Fireside Chats, as well as from various focused tracks including Hiring & Retention, Culinary Insights, Marketing Matters, Tech & Innovation, and Beverage/Alcohol.
"We develop programs focused on the pain points restaurateurs around the world face each day, and on opportunities that they can take advantage of to grow their businesses," said Marc Lapides, Vice President, Marketing, Programming & Communications for the Show. "Revenue growth, managing a workforce in a tight labor market, digital marketing, leveraging restaurant technology, and uncovering trends to shape menus are all part of the program. There are multiple sessions for every operator, regardless of size or segment."
2019 Education Tracks
Hiring & Retention: Learn about ways to hire and retain employees in a very tight labor market and ideas to create a stronger workforce in sessions like "How to Become an Employer of Choice," "Igniting a Team of Top Performers," and "Inside Out: Workplace Culture and the Guest Experience." Experts from brands including MOD Pizza, McDonald's HMS Host, Hilton and others are on tap to offer ideas and solutions in this area.
Culinary Insights: Gain insights through culinary-focused education and discover the latest in food trends, menu development, cannabis in foodservice, and more in sessions like "Attacking the Snack Craze," "What's Next in Sustainability," and "The Buzz About Alternative Proteins." Don't forget to stop by the all-new Culinary Experience Center, presented by Sysco, for culinary inspiration to create unique dishes that you can unveil in your restaurant right away.
Marketing Matters: Attract customers and keep them coming back with education from social media to menu pricing strategies. Learn business strategies to remain top of mind and driving profit in sessions like "Harnessing Technology to Drive Off-Premise Sales," "Your Brand has a Strategy: Are Your Team Members Part of it?" and "Engaging Today's Customer Through Cultural Intelligence."
Tech & Innovation: Discover the latest business solutions that will shape the future of foodservice and innovative technology tools to enhance your operation in sessions like "Protecting Your Most Valuable Data," "How Bots Can Turn Your Restaurant Back-Office into a Profit Center," and "Assuring Safety and Transparency in Your Supply Chain." For quick-hit technology education stop by TECH Talks for sessions focused on taking your operation's technology to the next level.
Beverage/Alcohol: Join leading experts at the BAR stage for sessions and mixology demos offering the latest trends and insights to keep your beverage program on the cutting edge. Check out sessions like "Alcohol To Go: Understanding Drinks for Delivery," "Brunch is the Next Great Bar Night," and "Igniting a Team of Top Performers."
KI Fireside Chats
Hear from the editors of Foodservice Equipment & Supplies and restaurant development + design magazines at KI Fireside Chats. Joined by experts from Johns Hopkins Health System, Avanti Restaurant Solutions, Starrdesign, and more, they'll spend time tackling some of the most pressing issues operators face not only today, but in the future. Foodservice operators, consultants, dealers, designers, and more will share their industry insights by offering a look at what's to come for operators of all shapes and sizes.
Menu Forecast: 2020 and Beyond
Menu trend guru Nancy Kruse, President of the Kruse Company, and Lizzy Freier, Shared Content Group Managing Editor at Technomic, team up this year to give one of the Show's most popular sessions. This year, with the added data and expertise of Technomic, the industry's top research and insights firm, Kruse and Freier will share their insight on how to shape your spread and translate trending tastes to your business.
Digital Media Slam
New in 2019, join top brands like Corner Bakery and White Castle leading the way in digital marketing strategy with great success at rapid-fire presentations during the Digital Media Slam. Learn how to utilize critical digital tools to build loyalty, manage online reviews, drive mobile orders, connect directly with customers, and so much more.
Women Leaders Panel
Hear from women that have successfully tackled the challenges and opportunities thrown their way in the new Women Leaders Panel. Dive into a discussion led by the James Beard Foundation along with leading female chefs and restaurateurs on how they're navigating the professional and personal paths to the top of the foodservice industry.
The education sessions will run throughout the four day event. Hear from visionary speakers on the latest the industry has to offer by registering for this year's 100th National Restaurant Association Show.