Miracle and Sippin' Santa—the adored Holiday-themed cocktail pop-up bars—are overjoyed to be returning for the 2021 season with new partner locations and new drink menus around the globe. Entering its eighth year, the Miracle team is committed to making this one of the best seasons yet, with new cities and teams joining the mix and previous bars returning. After the challenges of 2020, the ability to bring both cocktail concepts safely back is a momentous occasion to toast to this Christmas.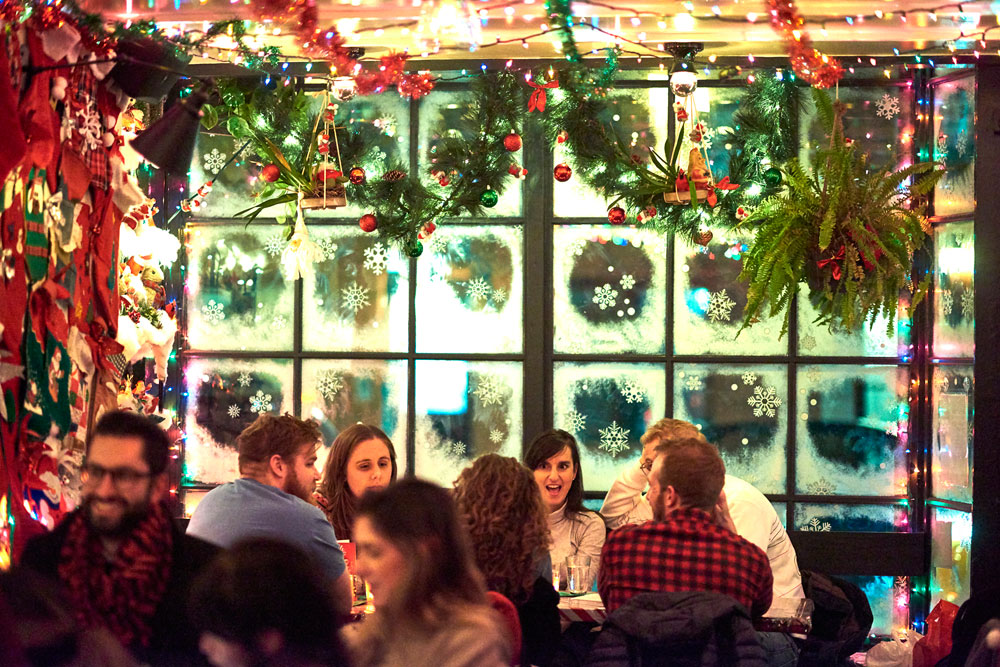 "Miracle and Sippin' Santa have always been a festive holiday haven for our fans—from guests to partners to industry professionals—and we feel incredibly lucky to be able to bring back our fun and whimsical holiday oasis this year," says Greg Boehm, owner and creator of Miracle. "The holiday season has always been a time to share in cheer and camaraderie and this year we plan on making these cherished moments even more special with new programming and events."
The Miracle story began in 2014 when Boehm transformed his bar Mace into a winter wonderland during the weeks between Thanksgiving and Christmas. Guided by the advice of his mother, Miracle on Ninth Street was born, and its fervent reception soon led industry friends from other cities around the globe reaching out to recreate the Miracle holiday magic in their own bars. Since then, and led by Boehm and General Manager Joann Spiegel, the Miracle concept has spread far and wide and to this day continues to open its doors to new cities around the world.
During this time, Jeff "Beachbum" Berry came to the Miracle team wanting to partner on a tropical Christmas offshoot of Miracle and from there the concept for Sippin' Santa was put into place. Described as one of Imbibe magazine's "25 Most Influential Cocktail Personalities of the Past Century," Beachbum is partnering again with the Miracle team to bring back Sippin' Santa this year, including the flagship location at his own bar in New Orleans and select cities around the country. Expect new, innovative cocktails as well as classic favorites to return.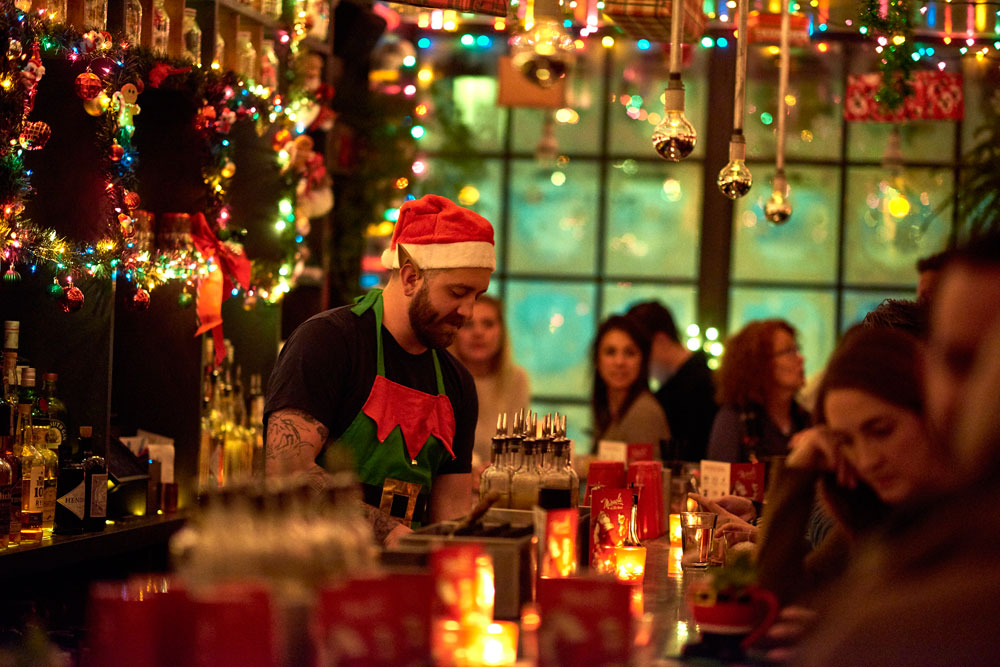 Both Miracle and Sippin' Santa locations will open their doors from November 22 to December 31, inviting guests to toast in person. All pop-ups will be decked in boughs of holly, from twinkling lights, vintage garlands, ribbons, tchotchkes and more, paired with a soundtrack of holiday songs for the ultimate setting of merriment. The magically curated space will serve as the perfect background for heartfelt reunions and shared experiences with loved ones all season long.
Joann Spiegel, the cocktail expert behind Miracle's recipe creation, is adding a new roster of holiday themed libations to the menu this year along with some returning fan favorites, each playing on classic seasonal flavors, and all served in playful and unique mugs and signature glassware. As is customary, visiting guests will have the opportunity to indulge in unique seasonal cocktails in playful mugs and glassware that play on classic holiday flavors. New this year is the Elfing Around cocktail as well as freshly updated and renewed recipes for the Jolly Koala, On Dasher, and SanTaRex. Classic Miracle cocktail favorites back for the season include the Christmapolitan, Christmas Carol Barrel, Snowball Old-Fashioned, Yippie Ki Yay Mother F****r!, Jingle Balls Nog, Nice Shot, and Naughty Shot.
At Sippin' Santa, this year's roster of cocktails features new drinks like the White Russian Christmas, Azul Navidad, Yule Log Grog, The Regifter, and Mistletoe-to-Toe. Popular tropical staples returning include Kris Kringle Kolada, Sippin' Santa, and Christmas Eve of Destruction.
As in previous years, the bespoke Cocktail Kingdom® Miracle and Sippin' Santa glassware will be available for purchase exclusively at each location during the duration of the pop-ups, making it the gift that keeps on giving. For the 2021 holiday season, Miracle will donate 10% of all proceeds from the sale of Santa Pants, Christmas Carol Barrel and Santa Heads signature glassware to the James Beard Foundation Open for Good campaign to aid the relief efforts of independent restaurants.
Year after year, Miracle and Sippin' Santa partners with some of the best cocktail bars across the country to bring their holiday concepts to life. To further enhance patrons' experiences, each partner location will also add its own holly jolly programming, such as ugly Christmas sweater parties and opening events to add to the memorable experience of sharing in person with loved ones. These occasions will vary by location so please check with your local pop-up and their social media platforms for more information.
Both Miracle and Sippin' Santa teams are excited to bring back the hope and wonder that is only found during the holidays and exclusively at their cocktail pop-up concepts. With its world class cocktail program and convivial spirited setting, they are bringing back the much needed cheer this season and ready to toast to memories in the making.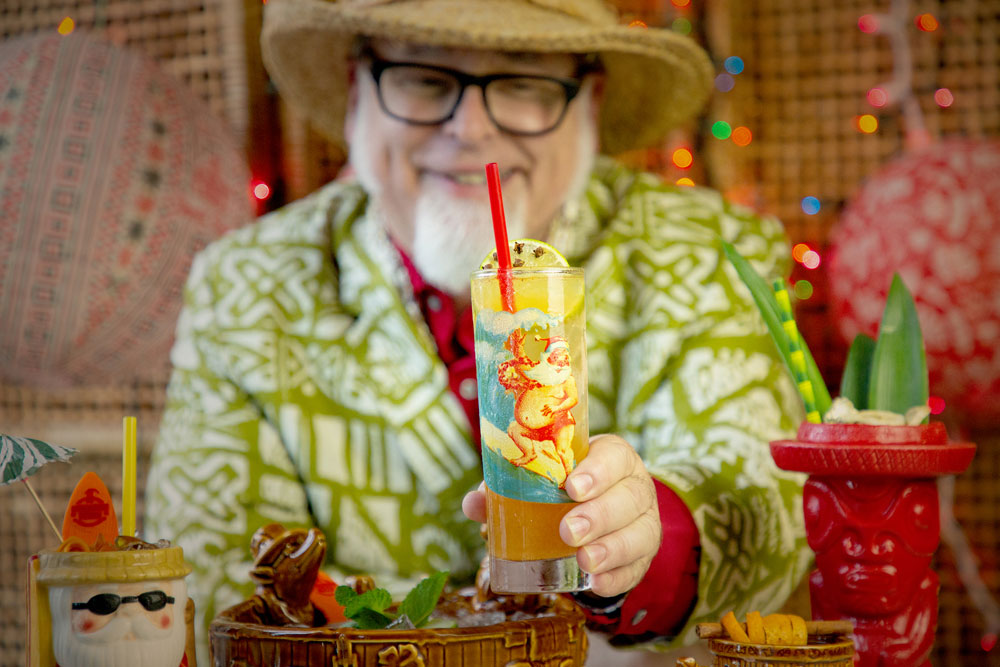 2021 Miracle Partners (As of 07.12.21 / List subject to change)
Amsterdam, Netherlands – Miracle at Boom Chicago
Ashburn, VA – Miracle at Sense of Thai
Asheville, NC – Miracle on Haywood Road (at The Golden Pineapple)
Athens, GA – Miracle at The Expat
Atlanta, GA – Miracle at TBA
Au, Switzerland – Miracle at Magic 52 Bar
Austin, TX – Miracle on 5th Street (at The Eleanor)
Baton Rouge, LA – Miracle on Bennington (at The Station)
Bellingham, WA – Miracle at Swim Club
Bentonville, AR – Miracle on 2nd Street (at Undercroft)
Birmingham, AL – Miracle on 24th Street (at Queen's Park)
Boulder, CO – Miracle at Avanti Boulder
Brooklyn, NY – Miracle on Union (at Thief)
Calgary AB, Canada – Miracle on First Street (at Proof)
Cambridge, MA — Miracle at The Marlowe (at The Kimpton Hotel Marlowe Lobby Bar)
Charlotte, NC – Miracle at BackStage Lounge
Cincinnati, OH – Miracle at The Overlook Lodge
Columbus, OH – Miracle at The Citizens Trust
Colorado Springs, CO – Miracle at TBA
Davenport, IA –Miracle at The Freight House
21. Daytona Beach, FL – Miracle at McCoys Rum Room (at Hilton Daytona Beach Oceanfront Resort)
22. Delray Beach, FL – Miracle at Death or Glory
23. Denver, CO – Miracle at Avanti Food & Beverage
24. Denver, CO – Miracle at Denver Union Station
25. Detroit, MI – Miracle at The Oakland
26. Encinitas, CA – Miracle at Roxy Encinitas
27. Fort Wayne, IN – Miracle on Jefferson (at Copper Spoon)
28. Fort Worth, TX – Miracle at Nickel City
29. Freehold, NJ – Miracle at Game Time Bar and Grill
30. Fresno, CA – Miracle at Modernist
31. Frisco, TX – Miracle at The Aussie Grind
32. Galveston, TX – Miracle at Daiquiri Time Out
33. Houston, TX – Miracle at Johnny's Gold Brick
34. Huntsville, AL – Miracle at MidCity (at The Camp)
35. Jacksonville, FL – Miracle on the Square (at Grape & Grain Exchange)
36. Jersey City, NJ – Miracle on Mercer (at Franklin Social)
37. Joplin, MO – Miracle at The Boardroom by 417 Foodie
38. Kansas City, MO – Miracle at TBA
39. Kingston, NY – Miracle at Stockade Tavern
40. Lafayette, LA – Miracle at Pamplona Tapas Bar & Restaurant
41. Las Vegas, NV – Miracle on Spring Mountain (at The Sand Dollar Lounge)
42. London, England – Miracle at Henrietta Hotel
43. London ON, Canada – Miracle at Union Ten Distilling
44. Long Beach, CA – Miracle at The Ordinarie
45. Louisville, CO – Miracle on Main Street (at Por Wine House)
46. Louisville, KY – Miracle on Market (at Galaxie)
47. Ludlow, TV – Miracle on Main (at Main + Mountain)
48. Madison, WI – Miracle on King Street (at Lucille)
49. Malden, MA – Miracle at Mystic Station
50. Manhattan, KS – Miracle on Moro (at The Hi Lo)
51. Memphis, TN – Miracle at The Liquor Store
52. Miami, FL – Miracle at Wynwood (at Shirley's at Gramp's)
53. Milford, MA – Miracle at Central Tavern
54. Milwaukee, WI – Miracle on 2nd (at The Tin Widow)
55. Minneapolis, MN – Miracle at Lawless
56. Minneapolis, MN – Miracle at Stilheart
57. Montreal QC, Canada – Miracle at Parliament Pub & Parlour
58. Mooresville, NC – Miracle at 158 on Main
59. Nashville, TN – Miracle at The Pearl Diver
60. New Brunswick, NJ – Miracle on George Street (at Catherine Lombardi Restaurant)
61. New Orleans, LA – Miracle at Barrel Proof
62. New York, NY – Miracle on 9th Street
63. Nutley, NJ – Miracle on Centre (at Cowan's Public)
64. Oakland, CA – Miracle at The Double Standard
65. Orlando, FL – Miracle on Orange (at The Courtesy)
66. Panama City, Panama – Miracle at aMano
67. Pensacola, FL – Miracle on Palafox (at Old Hickory Whiskey Bar)
68. Petaluma, CA – Miracle at Brewsters Beer Garden
69. Phoenix, AZ – Miracle on Floor 13 Rooftop
70. Pittsburgh, PA – Miracle on Liberty
71. Portland, ME – Miracle on Congress Street (at Vena's Fizz House)
72. Portland, OR – Miracle at Deadshot
73. Quebec City QC, Canada – Miracle at Maelstrom Café
74. Red Deer AB, Canada – Miracle at Bo's Bar & Stage
75. Reno, NV – Miracle at Ferino Distillery
76. Richmond, VA – Miracle on Cary Street (at The Jasper)
77. Salt Lake City, UT – Miracle on 2nd Street (at The Vault in Kimpton Hotel Monaco)
78. San Diego, CA – Miracle on 30th Street (at Polite Provisions)
79. San Francisco, CA – Miracle at PCH (at Pacific Cocktail Haven)
80. San Jose, CA – Miracle on 1st (at Paper Plane)
81. Seattle, WA – Miracle on 2nd (at Rob Roy)
82. St. Augustine, FL – Miracle at Forgotten Tonic
83. St. Louis, MO – Miracle at Small Change
84. St. Petersburg, FL – Miracle at Mezzo (at Intermezzo Coffee & Cocktails)
85. Stratford, CT – Miracle at Riley's by the Seawall
86. Tavares, FL – Miracle at Crafted Concoctions
87. Temecula, CA – Miracle on Front Street (at Apparition Room)
88. Topeka, KS – Miracle at AJ's NY Pizzeria
89. Toronto ON, Canada – Miracle at TBA
90. Virginia Beach, VA – Miracle at Tin Cup Kitchen + Oyster Bar
91. Waco, TX – Miracle on Austin Ave (at Dichotomy Coffee & Spirits)
92. Washington, DC – Miracle at Death Punch Bar
93. Waterbury, CT – Miracle at Highland Brass Co.
94. West Palm Beach, Miracle at Grandview Public Market
95. Whitehorse YT, Canada – Miracle at Woodcutter's Blanket
96. Wood-Ridge, NJ – Miracle at Gus' Last Word
2021 Sippin' Santa Partners
Arlington Heights, IL – Sippin' Santa at Cortland's Garage
Atlanta, GA – Sippin' Santa at TBA
Arvada, CO – Sippin' Santa at Arvada Tavern
Asheville, NC – Sippin' Santa at The Montford Rooftop Bar
Boston, MA – Sippin' Santa at Shore Leave
Charlotte, NC – Sippin' Santa at The Royal Tot
Chicago, IL – Sippin' Santa at Cortland's Garage
Detroit, MI – Sippin' Santa at The Skip
Austin, TX – Sippin' Santa at Nickel City
Harrison, NJ – Sippin' Santa at The Vanguard
Houston, TX – Sippin' Santa at Night Shift
Kansas City, MO – Sippin' Santa at Julep
New Orleans, LA – Sippin' Santa at Beachbum Berry's Latitude 29
New York, NY – Sippin' Santa at Boilermaker
Ottawa QC, Canada – Sippin' Santa at The Standard
Pensacola, FL – Sippin' Santa at The Kennedy
Phoenix, AZ – Sippin' Santa at Bitter & Twisted
Powell, OH – Sippin' Santa at Huli Huli Tiki Lounge
Reston, VA – Sippin' Santa at Tiki Thai
Sacramento, CA – Sippin' Santa at Jungle Bird
San Diego, CA – Sippin' Santa at The Grass Skirt
San Francisco, CA – Sippin' Santa at Kona's Street Market
Seattle, WA – Sippin' Santa at Navy Strength
St. Louis, MO – Sippin' Santa at Planter's House
Temecula, CA – Sippin' Santa at Devilicious Eatery
Toronto ON, Canada – Sippin' Santa at TBA
Waco, TX – Sippin' Santa at Sloane's
Washington, D.C. – Sippin' Santa at Archipelago
2021 Miracle Cocktail Menu
Christmapolitan
Vodka, Elderflower, Dry Vermouth, Spiced Cranberry Sauce, Lime, Rosemary, Absinthe Mist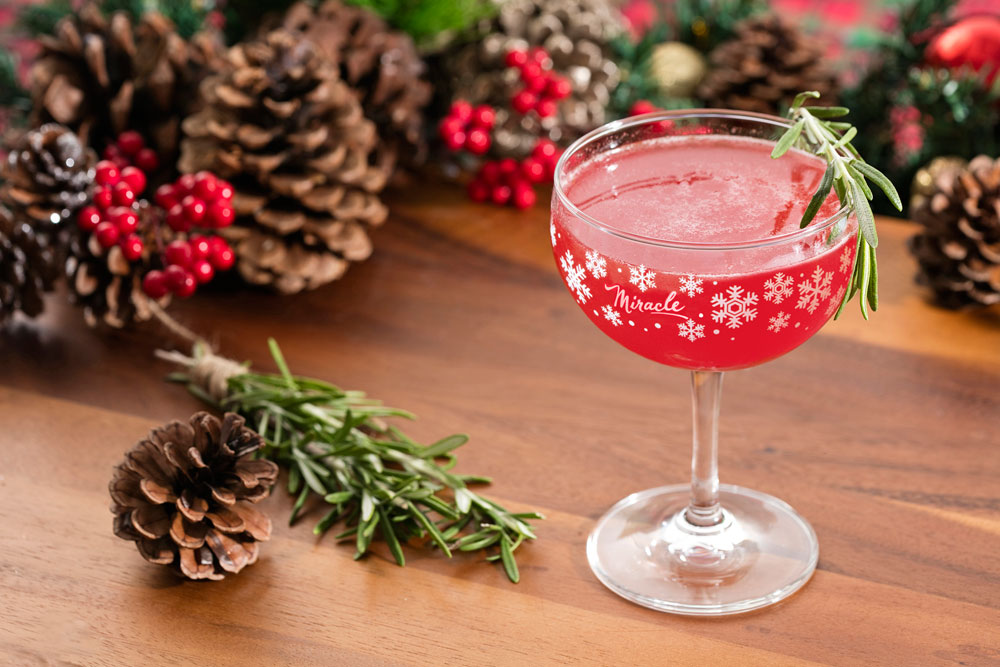 Jolly Koala
Bourbon, Cacao Nib Apéritif, Dry Vermouth, Mulled Wine Reduction, Mole Bitters
Christmas Carol Barrel
Reposado Tequila, Coffee Liqueur, Dry Curacao, Spiced Chocolate, Aromatic Bitters, Orange Bitters
(Dairy)
On Dasher
Gin, Vanilla Liqueur, Marshmallow, Cardamon, Black Pepper, Lemon, Cream, Egg, Soda
(Dairy, Eggs)
Bad Santa (served hot)
Aged Jamaican Rum, Velvet Falernum, Mixed Spiced Butter, Oat Milk, Nutmeg
(Dairy)
Snowball Old-Fashioned
Rye, Gingerbread, Aromatic Bitters, Wormwood Bitters, Orange Essence
Elfing Around
Prosecco, Gin, Mulled Wine Reduction, Grapefruit Shrub, Aromatic Bitters, Orange Bitters
SanTaRex
Blanco Tequila, Mezcal, Melon Liqueur, Almond Orgeat, Lime, Tiki Bitters
(Nuts)
Yippie Ki Yay Mother F****r!
Barbados Rum, Rhum Agricole, Trinidad Overproof Rum, Ube & Coconut Orgeat, Acid-Adjusted
Pineapple Juice
Jingle Balls Nog
Cognac, Cream Sherry, Almond Milk, Cream, Egg, Vanilla, Nutmeg
(Dairy, Eggs, Nuts)
Nice Shot
Gingerbread Spiced Rye
Naughty Shot
Cinnamon Spiced Bourbon
2021 Sippin' Santa Cocktail Menu
Kris Kringle Kolada
Dark Jamaican Rum, Amaro, Allspice Liqueur, Lime, Pineapple, Cream of Coconut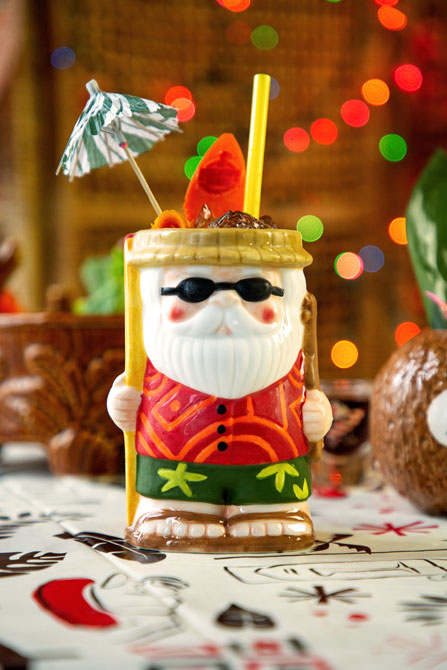 Sippin' Santa
Aged Demerara Rum, Amaro, Lemon, Orange, Gingerbread Mix
White Russian Christmas
Vodka, Dark-Roast Cold Brew, Condensed Milk, Ancho Chile Liqueur, Cinnamon Syrup
The Regifter
Martinique Rhum Agricole, Caramelized Pineapple-Garam Masala Syrup, Cherry Liqueur,
Lemon
Azul Navidad
Tequila, Mezcal, Lime, Cream of Coconut, Blue Curaçao, Hazelnut Liqueur, Pineapple Rum
Yule Log Grog (served hot)
Gin, Falernum, Cranberry Syrup, Ginger Liqueur, Lime
Christmas Eve of Destruction
Overproof Rum, Nutmeg Syrup, Herbal Liqueur, Lime, Aromatic Bitters
Mistletoe-to-Toe
Bourbon, Walnut Liqueur, Jamaican & Puerto Rican Rums, Lime, Orange, Maple Syrup
Rudolph Shoots the Curl
Herbal Mint Liqueur, Amaro, Dark Chocolate Liqueur