For more than 200 years, Reserva de la Familia has honored the origins of the Jose Cuervo family legacy of creating the most exquisite and rare tequila. Today, Jose Cuervo proudly announces the expansion of this coveted, award-winning tequila with the introduction of Reserva de la Familia Reposado and Platino to the U.S.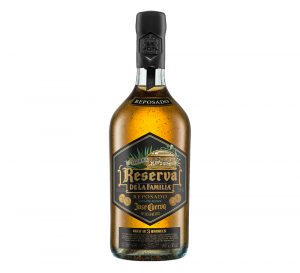 Generation after generation, this special liquid strengthened bonds between family members during the most important celebrations and milestones. Made at the oldest distillery in Latin America, La Rojena, in the town synonymous with its local spirit, this tequila was reserved for the Cuervo family's private collection and for sharing exclusively within the family, until twenty-five years ago. In 1995, this private tradition was extended to the public, with limited small batch quantities of an Extra Añejo expression, which was, true to its pedigree, called "Reserva de la Familia." This holiday, the portfolio extends to introduce a Reposado, a tequila aged in three different types of oak casks, and a return of its popular un-aged Platino expression.
"Reserva de la Familia pays homage to Jose Cuervo's legacy of crafting the finest tequila in the world," said Alex Coronado, Jose Cuervo's Master Distiller and Head of Production. "Each step is done by hand to ensure the purest expression of tequila. This artisanal process complements the true origins of Reserva de la Familia – which is the family's belief that a special bottle is made exceptional when it's sipped during intimate moments with the people you care about. Sharing a glass of Reserva de la Familia this season is more meaningful than ever."
Reserva de la Familia's broadening portfolio is well-timed, as both the tequila category, and craving for ultra-premium expressions within the category, continue to see tremendous growth. The global tequila market is expected to grow over 32% in the coming years,1 and as people start to discover more aged, complex tequilas, Reserva de la Familia is proud to preserve Mexico's national spirit and heritage. From utilizing only the most flavorful inner portion of the almost decade-old agave, planting in the estate's richest volcanic soil, to the specific selection of aging barrels, each expression within Reserva de la Familia has a thoughtful maturation process, including:
Platino – Returning to the U.S., Platino is an unaged tequila, and thanks to a natural fermentation process, the notes of agave keep their original character and come through intensely in aroma and flavor.
Reposado – the newest addition to the range, Reserva de la Familia Reposado earns its rich and sophisticated qualities through a unique barrel aging process that employs three different types of wood and barrel toasting styles. Heavily toasted American oak contributes intense notes of baking spices while whole, lightly-toasted American and French oaks bring forward mellow flavors of toffee and vanilla.
Extra Añejo – The jewel in the family's portfolio, Reserva de la Familia's Extra Añejo offers a rich, complex taste that is a result of its elaborate aging process in a combination of small, new American and French oak barrels, charred at different levels, which are destroyed at the end of the aging process. The Maestro Tequilero blends these extra-añejo tequilas after aging in their barrels, producing a complex mix of flavors, a rich boutique and an ultra-smooth taste. To elevate the experience even further, each year the Jose Cuervo family commissions a well-known Mexican artist to create a special edition design, adorned on the wooden box in which each hand numbered and wrapped bottle is placed. The current edition is designed by Jorge Pardo, displaying jimadors skillfully working the fields of western Mexico. Previous artists that have crafted designs paying homage to Mexican heritage and its significance include, Melanie Smith, Joel Rendon, Mercedes Gertz, Sergio Hernandez, and Marco Arce.
To further celebrate the expansion of the portfolio, Reserva de la Familia has teamed with Spirits Network to provide a curated look at the intimate moments this ultra-premium tequila inspires, along with offering Spirits Network members the chance to win a limited-edition 25th anniversary gift box with purchase of a bottle. Reserva de la Familia has also made a limited run of special-edition anniversary boxes available for gift through a collaboration with Cocktail Courier, providing the perfect gifting opportunity for the ultra-premium tequila enthusiast. These 25th anniversary gifts are extremely limited and can be purchased at CocktailCourier.com/CuervoHoliday.
1 https://www.statista.com/statistics/1137351/global-tequila-market-size/