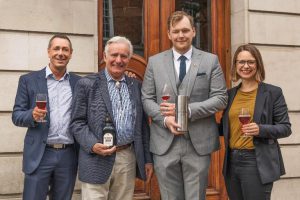 Cherry Heering crowned Odd Strandbakken from Oslo, Norway representing HIMKOK bar, as the 2018 The Peter F. Heering® Classics winner, as bartenders from around the world celebrated one of world's most popular spirits – Cherry Heering™.
The iconic cherry liqueur which is celebrating its 200th anniversary this year had 10 finalists and 1 Wild Card winner received personal coaching from a carefully selected panel of industry judges before the Grand Finale in London and were also filmed by Difford's Guide for Heering Legends.The finalists then personally presented their take on the 200 Years Celebration Cocktail at the final during London Cocktail Week 2018 and The World's 50 Best Bars.
The Jury
The Winning Peter F.Heering Classics was selected by an international expert jury led by spirits industry icon Dale DeGroff, aka King Cocktail, has since been credited with reinventing the bartending profession, setting off a cocktail revival that continues to flourish and winner of the James Beard Award for Wine & Spirits and author of The Essential Cocktail and The Craft of the Cocktail (Random House).
Other Peter F.Heering Classics jurors were led by Simon Difford, Founder & CEO, Difford's Guide and an English spirits industry writer and publisher Difford's Guide has become one of the cocktail industry's most popular websites, and serves as a trusted resource for the drink industry. Other jury members included: Nicolas Saint-Jean, Alex Kratena and Laura Schacht, Cherry Heering Global Cocktail Training and Advocacy Manager.
Round one was completed with bartenders having created and submitted their Heering filled libations with a focus on "Modern Classic with a Twist." All about creating the next Modern Classic.
Cocktails had to include Cherry Heering, and the top 75% from each region—Europe, Asia, Middle East/Africa, North America, Latin America and Australasia—proceeded to the next round.
Top 10 Heering Classics Finalist Bartenders listed in order of Country, Bar Cocktail Name
1. Mykhailo Zhuravel, Dubai, UAE,Bar: Mirage Dubai, Royal
2. Alexey Poltavskiy, Phuket, Thailand, Club No. 43, Few Words
3. Liam Doherty-Penzer, Sydney, Australia, Whirly Bird, Naughty Charles
4. Karalee Te Riini, Wellington, New Zealand, Hawthorn Lounge, Lovers and Frans
5. Odd Strandbakken, Oslo, Norway, HIMKOK, Pavoni
6. Oscar Armenta, Oaxaca, Mexico, Sabina Sabe, Royal Centenary
7. Maximiliano Vallé Valletta, Montréal, Canada, Les Enfants Terribles, Better Days
8. Maria Damgaard Andersen, København K, Denmark, Y's Café & Cocktailbar, Cherry Bomb
9. Philip Abowd, Seoul, South Korea, Southside Parlor, The Cherry Tree
10. Chirag Pal, Delhi, India, Shangrila New Delhi, Viajero
*Wildcard: Moses Laboy, NYC, United States, David Burke Kitchen, Ma Cherie
"The Peter F. Heering Classics have provided momentum for great new and classic Cherry Heering cocktails to be served around the world more than ever before with so many talented bar men and women showing their talents with the iconic 200 year old Cherry Heering Liquer," said Mark de Witte, CEO, De Kuyper Royal Distillers.
The Competition
The Peter F. Heering® Classics is an annual global competition with four rounds; bartenders from around the world compete to become one of the 10 finalists and 1 Wild Card shaking it up at the final during London Cocktail Week 2018 and The World's 50 Best Bars.
The 200th Anniversary Competition has had its four rounds from April 2017 through to the Grand Finale in October 2018.
ROUND 2 focused on Modern Classic in the Sky
Sometimes simplicity is key – especially 10,000 metres up in the air. This challenge was about simplifying the Modern Classic so that it can be recreated in an aircraft cabin. It still has to look and taste like their Modern Classic from Round 1. The 10 best contestants from each region then proceeded to Round 3.
ROUND 3 focused on the 200 Years Celebration Cocktail
To celebrate 200 tasteful years, CHERRY HEERING invited the top 60 bartenders to create a 200 Years Celebration Cocktail. The cocktail was a tribute to Cherry Heering turning 200 – a cocktail contribution for the next century to come – be timeless, i.e. be the next Modern Classic – Embodying everything that Heering stands for. The bartenders then presented their cocktails themselves in a video.
The Winning Cocktail
Pavoni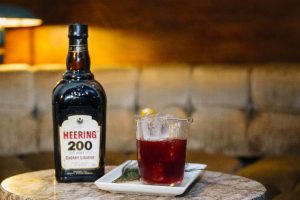 Ingredients:
30ml CHERRY HEERING ™
30ml Fino Sherry
10ml Marachino Liqueur
10ml Angostura di Amaro
4 dashes Angostura Orange Bitters