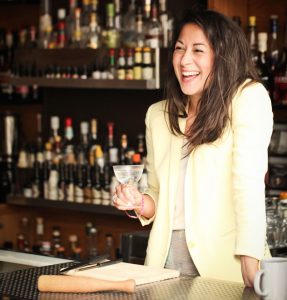 London Cocktail Week kicks off this week and runs from October 1-7 across London. We spoke with the event founder Hannah Sharman-Cox about what to expect at this year's festival.
Sharman-Cox is the founder and MD of DrinkUp.London, the parent company of London Cocktail Week, London Wine Week, London Beer Week, World Gin Day LONDON, and Espresso Martini Fest London.
Hannah started working in hospitality in 2002 as part of the original team at Milk & Honey, London. After a number of award-winning venue launches with Match Bar Group, she switched from bars to brands to start her own PR agency. Since she conceptualized London Cocktail Week in 2010, the festival has grown to become the largest cocktail event of its kind anywhere in the world, and in 2015 and 2016 was voted 'Best Event in London' at the Design My Night Awards.
London Cocktail Week includes parties, pop-ups, cocktail classes, special menus, cocktail tours, and the cocktail village.
With the addition of London Wine Week, London Beer Week and Espresso Martini Fest to DrinkUp.London's award-winning portfolio, the three festivals have welcomed over 200,000 guests and injected more than two million pounds of revenue directly back into the London hospitality trade through the festival pass scheme alone.
Bar Business Magazine (BBM): What led you to found London Cocktail Week (LCW)?
Hannah Sharman-Cox (HSC): I started it primarily as a trade event – I had been going around the world to various events like Tales of The Cocktail and Manhattan Cocktail Classic, and I thought why doesn't London have this? London is one of the cocktail capitals of the world and there's no reason why that shouldn't be celebrated. I had no idea how it would grow into what it is today (it had only started as a small trade event around London's cocktail culture.)
BBM: 30,000 attendees are expected this year. In your opinion, what has led to the growth of London Cocktail Week?
HSC: Consumers in London were really ready for London Cocktail Week – they were getting more and more interested in the London cocktail culture, in what they were consuming, and LCW was the perfect platform for brands to reach consumers when there wasn't a lot of opportunities for accessible ways for consumers to learn about London's cocktails culture. Staying a small team (seven people now, but it started as two) has meant that LCW has been able to move with the times and make changes as needed based on consumer needs / wants, i.e. cocktails village, growing the festival in real time, and keeping up with the international growth of cocktail culture. It's been a worldwide phenomenon, not just in London.
BBM: What can guests expect at this year's event? What's new?
HSC: Guests will see a much bigger cocktail village, more bars than last year, and an increase in immersive events. [These events include The Light House, an immersive journey exploring the essence of light; Lady Abercorn's Pub & Kitchen Bulleit tattoo menu at Andaz Hotel, an immersive whiskey-infused drinking and dining experience; and Jameson 'Taste, that's why' Masterclass, an immersive, interactive masterclass focusing on the Jameson whiskey range.]
BBM: This year, The Cocktail Village is the biggest ever with more immersive experiences. Tell me about the changes and what visitors can expect.
HSC: The sheer scale of it is exciting – it's a bigger space, brands have been able to dial-up their activations, creating their own worlds. It's a brand new space, bigger location, and people will be able to go a bit later, so more time to explore. There is unlimited entry with a festival pass, so you can come every single day, if you wanted.
Learn more about London Cocktail Week.