DAVO Technologies, the fastest growing provider of daily sales tax cash management automation has successfully closed a venture round of strategic investment led by Anania & Associates Investment Company. The investment will enable company-wide expansion while bringing depth of experience to their board and management teams. DAVO has added new members to its board of directors, has put structure around a well-defined and experienced sales and marketing team and added new key personnel to its operations team. They have also just relocated to a 5,500 square foot space overlooking the beautiful Presumpscot River and Saccarappa Falls in Westbrook Maine.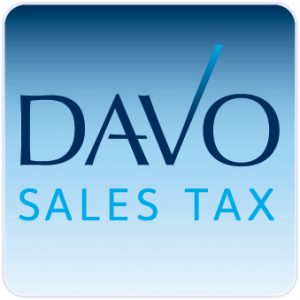 DAVO Sales Tax, which helps small businesses manage their monthly and quarterly sales tax payments, has been receiving rapid adoption and endorsement from the merchant community. During the past twelve months DAVO has experienced an average of 20% month over month customer acquisition growth on its Clover, Square, Revel, Poynt and QuickBooks Online business channels. Following two years of purposeful and strategic integration to the world's leading cloud based POS providers the company has recently released multiple merchant industry focused solutions. The new applications all leverage DAVO's daily cash funding technology. The DAVO Sweep & Save and Savings Club apps help merchants automate cash management while DAVO Franchise Pay enables franchise owners to automate the collection of advertising and royalty fees. In addition, DAVO has just launched a new and improved merchant portal, upgraded boarding for merchants in all states and launched partner and agent programs for the payments industry. A new website with greater visibility and functionality will be launched next month and new product releases are scheduled for Q4 of this year.
"The investment comes with much needed infrastructure support provided by Anania & Associates," said Owen Brown, CEO of DAVO. "The depth of experience they bring adds enormous value. In addition the investment allows us to build upon our commitment to excellence and to expand our platform's feature and functionality set."
"We are excited to invest in and partner with DAVO, an emerging market leader in helping small businesses with cash management and sales tax payments. Through its partnerships and integrations with leading web-based point-of-sale systems such as Square, Clover, Poynt and Revel, the DAVO platform and team are providing a critical solution to small merchants who struggle with their monthly sales tax payments," said Peter V. Anania, President of Anania & Associates Investment Company, LLC ("AAI"). In addition to AAI's investment, DAVO will also begin leveraging AAI's human resources and financial back office services and other strategic growth services all of which it offers to its Maine based portfolio companies. This is AAI's 10th platform acquisition or investment in Maine in the past 10 years.