Bar & Restaurant Expo is pleased to announce the finalists in each category of the 2022 Industry Excellence Awards, sponsored by sunday. Finalists in each category are recognized for their talent, integrity and commitment to equality, sustainability, community, and culture across the industry.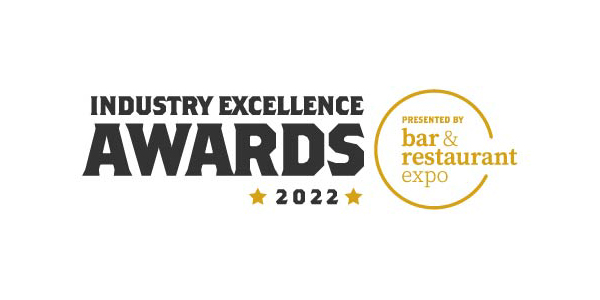 The Industry Excellence Awards are dedicated to recognizing, celebrating, and supporting the companies and individuals who make the independent bar and restaurant industry great. Winners in each category will be announced at the 2022 Bar & Restaurant Expo on the Expo Hall Floor on Wednesday, March 23 at 2:00 p.m.
2022 Industry Excellence Awards Finalists include:
Bartender of the Year
Brooke Rodwancy, The Gristmill Bar, OH
Inga Tantisalidchai, OLEA, CA
Josh Davis, Brown & Balanced, IL
Chef of the Year
Nicole Brisson, Brezza & Bar Zazu, NV
Rhonda McCullar, Uchi Dallas, TX
Tim McDiarmid, Tim the Girl Catering, TX
Cocktail Bar of the Year
drink.well, Austin, TX
Rocks & Drams, Los Angeles, CA
The Jones Assembly, Oklahoma City, OK
Community Leadership Awards
Adam Orman, L'Oca d'Oro / Good Work Austin, TX
Jeremy and Natalee Price, Taste of Tuscany Ristorante, CA
Sam Mustafa, Charleston Hospitality Group, SC
Innovator of the Year
Christie Lawler, The WITI Group, TX
Lindsey Johnson, Lush Life Productions, NY
Vyoone Lewis, Vyoones Restaurant, LA
LGBTQ Venue of the Year
Bachelor Forum, Rochester, NY
Downtown Olly's, Indianapolis, IN
Numbers Nightclub, Houston, TX
Most Original Concept
Cosmic Gorilla, Cincinnati, OH
Dad's, Minot, ND
Loro, Dallas, TX
Operator of the Year
Barbara Sibley, La Palpa / Holiday Cocktail Bar, NY
Leslie Martin, Bouldin Creek Café, TX
Tara Gillum, Steiner's Speakeasy, OH
Restaurant of the Year
Carversteak, Las Vegas, NV
Gucci Osteria da Massimo Bottura, CA
Lumi, San Diego, CA
Sports Bar of the Year
Caddies on Cordell, Bethesda, D.C.
Chatterbox Bar & Grill, Benton Harbor, MI
Dawg House Saloon & Sports Book, Las Vegas, NV
All thirty finalists will receive 2 Expo + Party Passes to attend the 2022 Bar & Restaurant Expo, plus coverage on the Expo's website, social media, newsletters and more. In addition, the 10 winners will be given a beautiful custom award, additional media coverage, and a VIP Ticket to attend the Expo in 2023. Winners are also eligible to become part of the judging panel moving forward.