March is Women's History Month, and to celebrate, we'll be profiling a number of women in the hospitality industry as well as sharing their accomplishments.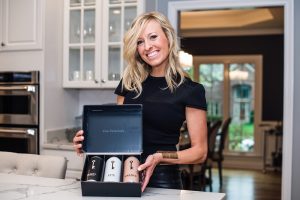 We kick off the month with Angela Allison. She is a designer-turned-entrepreneur, wine enthusiast, and creator of WineSociety, which is an award-winning, Women's Business Enterprise National Council-certified (WBENC),  premium bottle-alternative wine company based in Napa.
Angela founded  WineSociety  in 2018 and is honored to lead one of the mere 4% of woman-owned and operated wineries in California today.  WineSociety  also represents one of a small handful of "can-only" wine  companies and  is focused on setting itself apart from other brands through  award-winning  quality, becoming the first canned wine to receive 94 points from the International Wine & Spirits Competition.
Angela works closely with  California  growers  from notable AVAs  to craft four blends  available  in stylish, eco-friendly 500ml cans (an alternative to standard glass bottles, 70% of which  end up in landfills). WineSociety offers four premium wines, each with roughly 90 calories per serving:
TEMPT: Syrah blend  (65%)  with Petite Syrah, Petite Verdot, Merlot  and  Cabernet Sauvignon
FATE; Primary Chardonnay blend (75%) with  Albariño
CHANCE: Rosé made from equal parts Zinfandel, Syrah  and  Barbera
CHANCE Bubbles: A bubbly version of  the same  Zinfandel, Syrah  and  Barbera blend
WineSociety is available at over 300 locations nationwide and offers a quarterly subscription service, Club WineSociety, that delivers TEMPT, FATE, and CHANCE  wines to all states that allow direct-to-consumer shipping.  In light of  the pandemic and its impact on the hospitality industry,  Angela started  donating 5% of  all  Club Wine Society  proceeds to  the Restaurant Workers COVID-19 relief fund.
Read on for our Q&A with Angela!
Bar Business (BB): Tell our readers more about yourself and your career in the hospitality industry.
Angela Allison (AA): As a supplier and brand owner, everything we do comes back to the customer experience. We exist not only to meet their needs, but to exceed their expectations. As a serial entrepreneur, each of my endeavors has somehow been linked to hospitality and providing a service or product to enhance lives. WineSociety was created with the belief that you don't have to sacrifice quality for convenience, and that wine doesn't have to be intimidating or expensive–it doesn't even have to come in a bottle! Pairing my design background with a love and appreciation for wine, our brand not only focuses on the quality of the wine, but the experience our customers have while enjoying our product. We reach all five senses, starting with the visual appeal of our sophisticated yet simple packaging design, to the soft touch of our labels, fresh "pop" of our cans opening, delightful aromatics, and thoughtfully curated flavor profiles.
Amidst the challenges of 2020, we were able to expand into over 300 locations including grocery stores, bars, and restaurants. We have learned that our customers care about quality, value, convenience, and supporting diverse brands. Our 94-point rating (from the International Wine & Spirits Competition) and multiple medals ranging from silver to platinum give our customers the confidence that they are purchasing a quality product, and we're honored to represent the mere 4% of woman-owned and operated wineries in California–and one of the few (if only) certified woman-owned canned wine companies. We look forward to continuing to deliver on our promise of making quality wine more approachable and affordable. As I always say, "quality and convenience are KEY!"
BB: What do you love most about the hospitality industry?
AA: I personally believe that true happiness comes from bringing joy to others. The hospitality industry is all about putting customers first and providing them with the best possible experience. I also love that it's such a diverse industry with the ability to reach so many people in different ways. Food and beverage specifically is such a huge part of people's lives, and we're happy to be a part of that at WineSociety.
BB: What has been your biggest challenge?
AA: As a new brand, launching in retail in 2020 was an obvious challenge. But it also brought new opportunities, like carry-out, where our cans were a better fit than bottles. Another challenge has been educating customers on the quality of our wine. Many canned wines on the market are marketed as inexpensive "picnic" wines, which is not necessarily appealing to all audiences. WineSociety is for those who appreciate great quality wine, but want to enjoy it anytime, anywhere (like on a boat, an afternoon on the patio, or poolside). To help support our premium quality foundation and to set us apart on the shelves, we entered our wine in competitions and now have the backing of a 94-point rating for our TEMPT premium red blend (the first can to receive top-tier ratings!), along with several medals. Getting "liquid to lips" (or "cans in hands") is KEY, but it is certainly more challenging without in-store demos and outdoor events.
BB: What led you to launch a wine company based on canned wine versus bottles?
AA: I believe wine doesn't have to be intimidating or expensive… it doesn't even have to come in a bottle! There are three main reasons for choosing cans to package our wines:
VESSEL: Most premium and more practical vessel for how most wine is consumed (within 72 hours of purchase)
Cans create less waste and are more eco-friendly, affordable (you pay for the wine and not the bottle), and offer a completely sustainable environment (no light or oxygen pollution).
DESIGN: Sleek and modern skin
Just because it isn't in a bottle doesn't mean it can't still be classy!
SIZE: Sometimes a bottle is too much
The 500ml size was inspired by our travels to Italy, where a 1/2 carafe is a standard option at restaurants and the perfect size for my husband and I to share over dinner.
BB: Do you foresee canned cocktails, canned wine, etc. continuing to be popular?
AA: Absolutely. We are just at the beginning of the growth trajectory, and with the pandemic, the desire for more portable and convenient options to pair with the increase in outdoor adventures and outings is even more sought after. When we started in 2018, there were just a handful of brands; today, the growth of wine in cans has been explosive with 70-80% YOY jumping from a $2M to $183.6M industry according to Nielsen. It is following in the footsteps of craft beer in cans–what started out as <5% of the market is now over 60%! Customers are seeking out these options and becoming more familiar with cans as other premium beverages like beer, coffee, water, and CBD drinks are transitioning to cans. As one of the brands on the forefront of this exciting new market, we look forward to establishing ourselves as a pillar for quality California wine!
BB: Do you have any advice for other women in the hospitality industry?
AA: A "people first" mentality is a must! To be truly successful, that must be a part of what drives you and brings you joy. The passion to make people happy and to elevate their experience is not something everyone possesses, and when executed well, success will follow.
BB: Do you have a favorite WineSociety recipe that you'd like to share?
AA: As someone who loves to cook and create new recipes, I love this question! I am always creating in my kitchen and love to put a special twist on things. Right now, as the weather is warming up in Napa, my favorite wine cocktail is a collaboration we did with Vince Anter of V is for Vino–I can't wait to make it again!
Fatal Spa Water

Ingredients: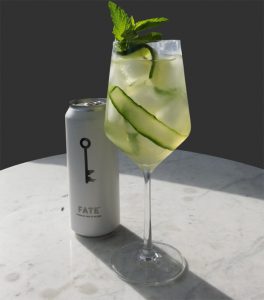 4-6 mint leaves
3 cucumber ribbons
.5 oz lime
.5 oz simple syrup
4-5 oz WineSociety FATE White Wine
2 oz Club Soda
Directions:
Slap mint to activate. Add to wine glass with all other ingredients. Add ice to fill. Garnish with cucumber ribbon and mint sprig. Enjoy!