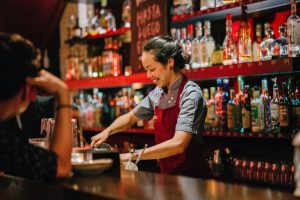 To begin her sixth weekly Instagram Live update on the Bartender Emergency Assistance Program (BEAP), USBG National Charity Foundation (USBGNCF) Board Member and Director Kim Haasarud acknowledged the fact that many cities and states have started to allow guests back into bars and restaurants for dining.
She said service industry members are not only being called back into work, but also to keep guests safe amid new cleaning and social distancing protocols and all of the challenges these new routines bring.
She went on to give an overview of the average recipient of the BEAP COVID-19 grants. For a closer look at a typical profile of a grant recipient, visit our post.
Haasarud announced that the Foundation has dispersed $7 million in grants to date of an existing $8 million in funds raised. She encouraged those who could to donate, and said the Foundation is still committed to raising an additional $10 million to meet the current needs of the industry.
She concluded this week's update by answering some questions from applicants and viewers.
On the topic of hearing back about a grant application, Haasarud says applicants should expect to hear from the Foundation every two to three weeks. If applicants haven't received any correspondence, they should check their spam folders. Current applicants can find additional information about existing applications on the FAQs page.
Haasarud also reiterated that applications are prioritized based only on need. She said region, place of employment, and whether or not an applicant is a USBG member have no bearing on an applicant's eligibility or likelihood to be awarded a grant.
She also said states that have not yet opened—like parts of New York—are not prioritized over other states and regions that have already to begun to reopen. "Opening doesn't necessarily mean that they don't need a grant," explained Haasarud.