There are few spirits shrouded in as much mystery as absinthe. Absinthe is an anise-flavored spirit made from a neutral alcohol distilled with a number of botanicals.
In the past years, absinthe has been re-emerging in the US, going from simply being
known as the beloved drink of many artists during the Belle Epoque Era in France, to being
tasted, appreciated, and loved by an always growing group of aficionados.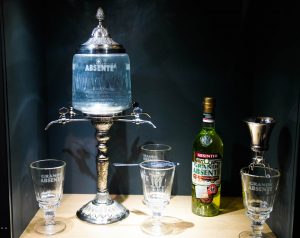 Absente
Among the varieties of absinthes that are currently on the market, there is Absente – Absinthe Refined, which is made by following one of the oldest recipes dating back to 1860. It is exactly this peculiarity that, in 2001, caught the attention of spirits marketer and Crillon Importers founder Michel Roux, who chose this recipe among 200 others and
made it the first absinthe available in America, for the first time after its ban in 1912. Absente is the first (and for over a decade was the only) legal absinthe containing thujone in USA.
Absinthe Refined is produced in the south of France, at Distilleries et Domaines de
Provence – the same distillery that has owned Crillon Importers since the passing of
Michel Roux in June 2019– using the highest quality artisanal distillation methods and
ingredients, including the infamous botanical wormwood (or artemisia absinthium), the
key ingredient of the authentic absinthe recipe. Added to wormwood, there are other 8
botanicals, including mugwort, anise, peppermint and lemon balm, just to name a few.
The result is a very aromatic and intense taste, with a dominance of herbs and a spicy
and bitter a finish. The ingredients are steeped and/or distilled and they are prepared in
advance to be then mixed at the time of production. This step allows the distillery to
control the thujone content of all the products.
Absinthe Refined is 55% ABV and 110 proof, which can give consumers a full experience
without sacrificing the taste.
Absente also has a very important link with art. As it is known, absinthe has always been the trademark of many artists, such as Van Gogh, Picasso, Manet, Oscar Wilde, just to name a few. For this reason, when Distilleries et Domaines de Provence started producing absinthe again, they decided to establish a close link to the art world by asking dozens of painters to paint what absinthe inspired for them, ranging from original ideas to inspirations from past and contemporary artworks. Throughout time, Distilleries et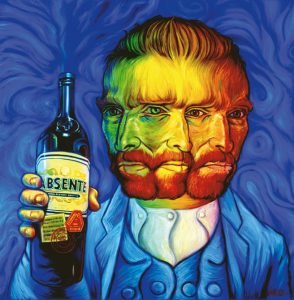 Domaines de Provence collected 150 paintings from artists from France, USA and Italy, and turned a smaller quantity into metallic posters. Soon enough they came to realize that one artwork in particular – the Van Gogh triple face – was getting the majority of people's attention and they decided to create a gift box based on it. Today, the brand is fully associated with the Van Gogh box, making it stand out among other brands and highlighting its attachment to the art world, as well as the importance of staying true to the history around the spirit.
How to Drink
There are many ways to enjoy absinthe, including the traditional method, which requires slowing down and enjoying the drink.
During the Belle Epoque, artists would take their time to enjoy a glass of absinthe. Whether they used the absinthe fountain, the sugar spoon, or diluted it in water, they would make an event out of the act of drinking this infamous spirit.
This is exactly what should be done today. After dinner, bring out a bottle of Absente Absinthe Refined, a glass, an absinthe spoon, and, if you want to take it to the next level, an absinthe fountain.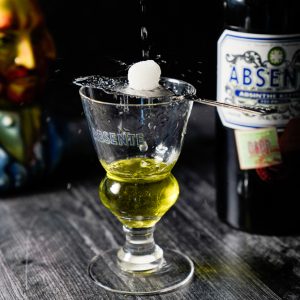 Pour 2 oz of absinthe in a glass, place an absinthe spoon with a sugar cube on top of the glass, pour 2 oz of water (or open the fountain's faucets and let water drip slowly onto the sugar), stir, and drink. The addition of water is very important as it allows the herbs to "blossom," bringing out many of the flavors that could be overpowered by the anise. It is now that the crystal-clear liquid turns cloudy and vaguely opalescent, an effect to which we refer as louche.
Absinthe can also be enjoyed in cocktails. Try one of the recipes below!
Castaway Cocktail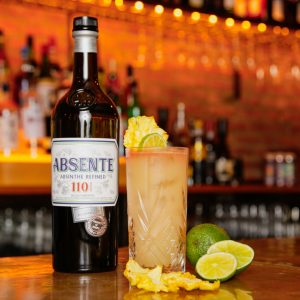 By ZEV Glesta
Ingredients:
2 dash aromatic bitters
1/2 oz orgeat
1/2 oz Absente Absinthe Refined
3/4 oz lime
3/4 1 oz pineapple juice
1.5 oz Rhum Barbancourt
Directions:
Whip shake with crushed ice. "Dirty dump" into highball. Top with more crushed ice and 3 dashes of peychauds bitters. Garnish with lime and pineapple.
Cherry Tomato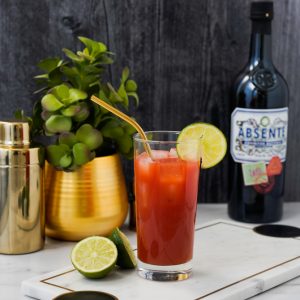 Ingredients:
2 oz Absinthe Refined
4 oz tomato juice or Bloody Mary mix
1 oz lime juice
Directions:
Shake and serve in a cocktail glass. Garnish with a lime.
Grande Absente Curacao Frappe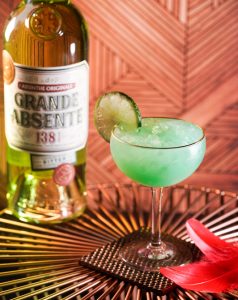 Ingredients:
1 oz Grande Absente | Absinthe Originale
½ oz Curacao
2 Teaspoons orange juice
1 Teaspoon lemon juice
Directions:
Stir ingredients and pour over crushed ice in a deep-saucer champagne glass. Garnish with a lime slice