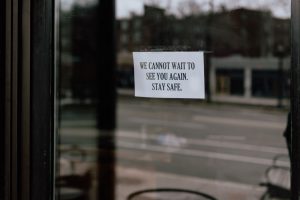 Many bars and restaurants across the country are having to close again after only reopening for a short period of time. COVID-19 cases are surging in certain locations, and as a result, some states are taking action.
New York City
In response to the growing wave of COVID-19 cases in the U.S., New York City announced on July 1 that it wouldn't be moving forward with its plans to allow indoor dining in the five boroughs. The decision doesn't affect other parts of New York State.
New Jersey
New Jersey has shelved the move to indoor dining indefinitely.
Texas
Texas Governor Greg Abbott issued an executive order on Friday, June 26 reducing capacity and closing certain bars and restaurants as part of the state's efforts to contain the spread of COVID-19.
This decision comes as the number of people testing positive for COVID-19 and the number of hospitalizations have increased. The targeted, measured directives in the executive order are based on links between certain types of businesses and services and the recent rise in positive cases throughout the state.
The order includes:
All bars and similar establishments that receive more than 51% of their gross receipts from the sale of alcoholic beverages are required to close at 12:00 PM on June 25. These businesses may remain open for delivery and take-out, including for alcoholic beverages, as authorized by the Texas Alcoholic Beverage Commission.
Restaurants may remain open for dine-in service, but at a capacity not to exceed 50% of total listed indoor occupancy, beginning Monday, June 29, 2020.
"As I said from the start, if the positivity rate rose above 10%, the State of Texas would take further action to mitigate the spread of COVID-19," said Governor Abbott. "At this time, it is clear that the rise in cases is largely driven by certain types of activities, including Texans congregating in bars. The actions in this executive order are essential to our mission to swiftly contain this virus and enhance public health. We want this to be as limited in duration as possible. However, we can only slow the spread if everyone in Texas does their part."
Florida
Florida has also seen its COVID-19 cases rise in record-breaking numbers, especially among younger people.
In an effort to help stem the spread, the state's Department of Business & Professional Regulation suspended consumption of alcohol at bars statewide on Friday, June 26.
This comes just days after Florida Governor Ron DeSantis said the state's Department of Business and Professional Regulation would be suspending the liquor licenses of bars blatantly in violation of COVID-19 guidelines.
Bars were allowed to operate at 50% of their indoor capacity. DeSantis said that warnings would be given to bars only slightly over that percentage, but for packed establishments blatantly disregarding capacity and social distancing restrictions, the liquor licenses would be removed. One central Florida bar has already had its liquor license suspended.
California
California stopped short of a statewide shutdown, and instead, Governor Gavin Newsom ordered bars closed in seven counties on Sunday: Los Angeles, Fresno, Imperial, Kern, Kings, San Joaquin, and Tulare. He also recommended closing them in eight other counties: Contra Costa, Riverside, Sacramento, San Bernardino, Santa Barbara, Santa Clara, Stanislaus, and Ventura.
Arizona
In a similar move, Arizona Governor Doug Ducey said that the state's Department of Liquor Licenses and Control would begin cracking down on bars not following COVID-19 guidelines as positive cases soared in the state.
The state issued a final warning to a list of bars and clubs that they dubbed "bad actors," explaining that if they didn't come into compliance with social distancing rules, they would lose their liquor license. Some of the establishments chose to close on their own for a few days to make changes to come into compliance.
Michigan
Restaurants and bars were allowed to reopen across the state on June 8, but at least one establishment in East Lansing that had multiple COVID-19 cases linked to it has temporarily closed again to work on implementing better ways to combat the spread of the virus.
In a bit of good news, the Michigan Legislature passed a bill this week, HB 5811, to allow restaurants and bars to sell cocktails to-go in sealed containers until December 31, 2025.
"By approving cocktails to-go, the legislature is throwing a much-needed economic lifeline to Michigan restaurants and bars," said David Wojnar, Distilled Spirits Council of the United States (DISCUS) Vice President of State Government Relations. "Cocktails to-go will provide an important revenue boost to hospitality businesses as they begin to recover from the financial hardships created by COVID-19."
According to DISCUS, more than 30 states plus the District of Columbia are allowing restaurants and/or bars to sell cocktails to-go, bottled spirits to-go, or both. Some states, including Texas, Florida, Ohio, Oklahoma, Iowa and the District of Columbia, are considering making these policies permanent.