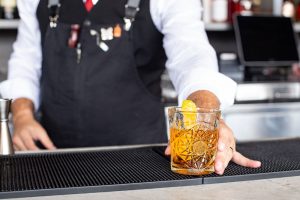 During Thursday, June 25's Instagram Live update, USBG National Charity Foundation volunteer board member Kim Haasarud noted that the Foundation's COVID-19 Relief Campaign has likely come to an end due to the number of eligible applications outpacing fundraising.
"It is painful for me to have to tell you that we believe our COVID-19 Relief Campaign has likely reached its end. I wish we could help more of you, I wish we could help all of you," she said. "The opportunity to help those in need hasn't come to a complete halt. We're going to continue to fundraise and turn over stones in the hopes of having more money to distribute to all of our eligible bartenders, but the reality is that we're just not going to be able to help everybody. In order to do that, that would require us to bring in another $9 million. That amount would actually enable us to fund grants for all of the eligible applicants in our portal. I wish we could help everybody, but unfortunately I just don't think that's going to be possible."
Haasrarud said that the possibility of re-opening the COVID-19 Relief program is always there, but at the moment they are prioritizing and focusing on the applicants already in their system. "Could we open it back up? Sure. If we suddenly got a big influx of donations and had the ability to service that many more people, absolutely," she said. "But we need to service those currently in our grant portal before we do that."
On a positive note, Haasarud said that the Foundation is proud of the fact that they've been able to help over 30,000 bartenders in a little over three months. She said the bartenders come from every type of bar, represent all races, and cover a wide range of ages.
She shared some detailed statistics:
Total number of applicants: 295,495 (This represents a little less than half of all bartenders in the U.S.)
Total number of applications processed: 62,457
Total number of applications accepted/grants disbursed: 30,756
Total allocated funds: $9,215,450
Total funds committed: $9,241,055
Haasarud also acknowledged the ongoing challenges bartenders face as bars reopen around the country. "One thing is for certain is that nothing looks and feels like it did pre-pandemic—even for those who are starting to go back to work," she said. "Unlike the nation's sports leagues, there's no unified set of best practices to go back to work and reopen."
She noted that bar staff is feeling its way through new protocols and trying to comply with recommendations, while also dealing with people politicizing some of these practices. "The front-of-the-house workers who are starting to go back to work, those are the ones who are literally on the front lines of having to navigate the best practices of health and safety and dealing with some of those people's politics. Those refusing to wear masks, those saying that you're not doing enough," said Haasarud. "The Foundation is concerned about all of those challenges that bartenders face as they return to their jobs out of necessity. All the while having to fear for their own health and safety."
Haasarud concluded the update by reminding the bartending community that the Bartender Emergency Assistance Program (BEAP) is still ongoing and will continue. These grants support bartenders who have experienced catastrophic events like car accidents, injuries, sickness, fire, flood, etc.