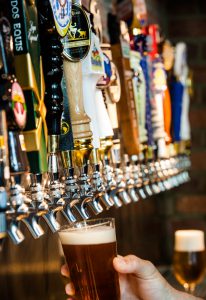 As Memorial Day weekend approaches, America's more than 3,000 independent beer distributors are helping retailers stock up for the start of the summer beer selling season by delivering an unprecedented variety of beer brands and building tens of thousands eye-catching displays in local stores to welcome summer.
"Over the course of the year, beer distributors across the United States deliver nearly 3 billion cases of beer to more than 600,000 retail establishments – including restaurants, pubs, convenience stores, bottle shops, grocery stores, ballparks and concert venues," said National Beer Wholesalers Association (NBWA) Chief Economist Lester Jones.
"Memorial Day ranks only behind July Fourth as the top holiday for beer sales in the United States," Jones said. "And, on average, beer sales are 20 percent higher in the summer months compared to the rest of the year."
Jones added, "Weather is key. After all, consumers are more likely to enjoy a cold beer if it's warm and sunny outside."
America's nearly 135,000 beer distribution employees – including truck drivers, warehouse employees, brand managers, sales teams and marketing employees – are working to make sure that consumers are able to grab a cold one for their cookout, trip to the beach or family dinner this weekend.
According to a report by the Center for Applied Business & Economic Research at the University of Delaware, independent beer distributors provide more than $23 billion in transportation efficiencies for the beer industry each year. A well-run beer distribution network saves retailers on average more than $37,000 a year for each retail establishment.
According to an NBWA survey, independent distributors deliver an average of more than 980 unique packages (or SKUS) of beer, including imports, well-known national brands and labels from emerging local brewers.
"Thanks to an open and independent system that helps new brands get to market, beer drinkers today have more choice than ever before with more than 5,000 domestic brewers and hundreds of importers offering thousands of styles and brands that make the beer industry innovative and exciting," Jones said.