BeerBoard, the integrated beer management and guest display system that is currently used to manage over 50,000 tap lines in thousands of bars and restaurants across the United States, has recently partnered with a number of brewery tap rooms nationwide in support of the growing industry trend.
"Brewery tap rooms are an emerging trend within the beer industry as brewers are putting more efforts and money behind building out their own tap rooms, whether on- or off-brewery site," said Mark Young, Founder and CEO of BeerBoard. "Following in our mission to make bars and restaurants more efficient and profitable, BeerBoard is now also helping this segment of brewery operators to better track, manage, and enhance their businesses."
Brewers such as Empire Brewing Company, Southern Tier, New Holland Brewery, Seneca Street Brew Pub, Lexington Brew House, Upstream Brewing Company, and BJ's Restaurant & Brewhouse have all invested in implementing BeerBoard's patented beer management technology in efforts to build out their own tap rooms for consumer patronage.
"We have been a partner of BeerBoard for a number of years," said Tim Butler, Director of Brewing Operations for Empire Brewing Co. "But now, on the brewpub level, BeerBoard helps us create and track a brew schedule by showing us what beers are trending and the rate they are selling at. This helps with inventory management and allows us to make educated decisions. The customer-facing BeerBoard menu screens also keep the customer informed of what is available in real time, and helps provide accur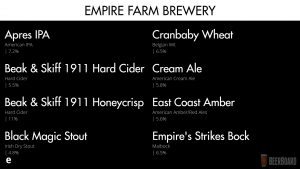 ate descriptions with specifics on each beer including style and ABV."
"BeerBoard's services are tremendously helpful," said David Harries, Brew Master at Southern Tier Brewing Company. "We feature a large portfolio of brands, and there is a lot of movement on-tap and off on a daily basis. BeerBoard's system gives us a microcosm of the market and shows what we are producing on-site to see velocity of what's moving. If it takes off with the clientele, we can now look at making adjustments to how often we make the beer available, potentially moving to year-round."
"New Holland Brewing has been using the BeerBoard platform with great success for the last four years," said Dave White, Partner, New Holland Brewing. "The platform provides our teams with amazing analytics, which are vital to the success of our retail operations. We are able to dial-in on our beverage data and make smart decisions as a company on products we brew on-site and how the consumer is responding to those products."
BeerBoard's platform syncs bar taps with digital menu screens, print menus, social media, and websites, which allows operators to display real-time information for consumers and touch them in multiple formats. The platform also enables retailers to merchandise and better market their beer menus, increasing sales by an average of 10 percent. Furthermore, the company's SmartBar Technology tracks every ounce of beer poured to better manage inventory and cut losses, as well as provide insights and reports to help operators make more informed decisions based on actual pour data and industry trends.