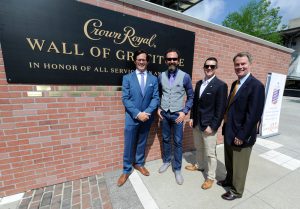 Thousands of fans will flock to the Racing Capital of the World to watch their favorite drivers qualify for the 101st running of the Indianapolis 500 during Crown Royal Armed Forces Weekend. And starting this year, those fans will have the opportunity to permanently cement the names of their military heroes at the track in recognition of their generous sacrifice.
Inspired by the iconic Yard of Bricks marking the track's finish line, Crown Royal and Indianapolis Motor Speedway (IMS) have erected a brick Wall of Gratitude to display the names of military members past and present. Located in the infield at New Myers Drive and 6th Street (next to the Crown Royal tent), fans 21+ can submit names to be engraved on gold plates permanently affixed to the brick wall as a small token of appreciation for their selfless service. And throughout the weekend, Crown Royal will be randomly surprising select nominators with VIP race experiences and tickets.
Race-goers can also stop by the Crown Royal tent to assemble care packages for troops overseas, interact with custom photo booths that facilitate local charity donations and sample various whiskies. The full schedule for submissions to the Wall of Gratitude is below:
·         Friday, May 19 through Sunday, May 21: 11 a.m.-5 p.m.
·         Indianapolis 500 Race Weekend
·         Friday, May 26: 10 a.m.-4 p.m.
·         Saturday, May 27: 9 a.m.-1 p.m.
·         Sunday, May 28: 7 a.m.-12 p.m.
"Serving one's country is, without a doubt, among the most generous things a person can do," said Jim Ruane, Director of Crown Royal. "We look forward to seeing the Wall of Gratitude filled to the top with names of servicemen and women as we toast to their honor during Crown Royal Armed Forces Weekend and the Indy 500 – rooted in remembrance and celebration of our nation's heroes."
Building upon the legacy of Crown Royal's "Your Hero's Name Here" program, 2017 marks the sixth straight year the whisky maker has partnered with IMS to recognize the most generous among us – the true kings and queens of their communities – in one-of-a-kind ways.
"This is a fitting and unique way to honor our military heroes during the Month of May at the Racing Capital of the World," said IMS President J. Douglas Boles. "Crown Royal's Wall of Gratitude and the chance it provides to celebrate our military members and veterans will be a highlight for many fans visiting the track."
Crown Royal's "Live Generously and Life Will Treat You Royally" campaign aims to inspire generosity in all of its many forms, building upon the brand's longstanding history of celebrating military heroes – from giving veterans the royal treatment at pro sporting events, to helping a blinded soldier see his hometown in a novel way, to year-round collection of care packages for deployed troops.
Crown Royal asks that all race fans honor generously, but drink in moderation.
Photo & video courtesy of Crown Royal.