Wyoming Whiskey's annual selection of Single Barrel Bourbon is now on shelves in Wyoming, Colorado, California, New York, New Jersey, and Illinois.  And, thanks to the success of Double Cask, a Pedro Ximenez sherry cask-finished bourbon, production has been increased and more consistent distribution can be expected in New York, New Jersey, and Colorado, in addition to the already established Wyoming and California markets.
Wyoming Whiskey Head Distiller, Sam Mead, is developing these creations with the tasting input of industry specialist and master blender, Nancy Fraley.
Single Barrel Bourbon represents the top 1% of all barrels sampled in a given year, with each barrel selected for its overall quality and flavor profile. Since its initial launch in Nov. 2015, Single Barrel has historically sold out soon after hitting the shelves. Single Barrel retails for $59.99.
This year's stock for the Single Barrel program is over 5.5 years old. According to Fraley, given the unique maturation conditions at Wyoming Whiskey, this is when the bourbon starts to develop more "matured" aromas. This batch of Single Barrel has a has greater complexity, intensity, and finesse than it has in the past.
Wyoming Whiskey Single Barrel is deep copper to mahogany in color. On the nose, you'll find browned butter, cola, black currant, black cherry and dried dates, orange citrus blossoms, bittersweet dark chocolate, almond butter and black tea. The palate is cola, dark chocolate, buttered pastry, dried date and Mission fig, raisin and candied orange peel. Its mouthfeel is full and rich, chewy, spicy, creamy with nuts. It has a long finish that's dry, but with lingering impressions of butter crème, candied orange peel, and dark dried fruit.  But, each barrel offers its own unique variations from the general flavor profile.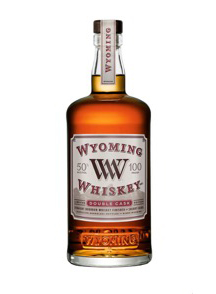 Double Cask was first released in January 2017, at which time Larry Olmsted at Forbes Magazine reviewed it, stating "…it's no surprise that this new release is delicious…every drop is 100% Wyoming, with the finest corn, wheat, barley and water from the Big Horn Basin."
Double Cask is Wyoming Whiskey's fully-matured bourbon that has a second round of maturation in Pedro Ximenez sherry barrels. Double Cask retails for $69.99.
Fraley gives Double Cask excellent marks. According to Fraley, the Sherry-Finished Bourbon features dark, autumnal notes of dried apricot and fig, stewed prune, black currant and toasted nuts. There are hints of candied orange peel, vanilla butter cream, and molasses underneath. The finish is comprised of dark, dried fruit followed by warm, brown baking spices.
Fraley added that this year's Double Cask version overall has softer tannins, a lot more finesse, has more depth and length on the palate, and is overall 'deeper and darker' than last year's version. The complexity has continued to increase as well.