Virginia Distillery Company – the largest independently owned American Single Malt distillery in the United States – will release its first American Single Malt, a limited-edition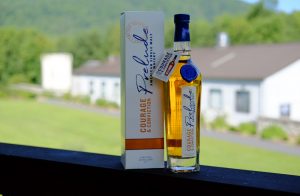 preview product called "Prelude: Courage & Conviction" October 1 in select markets nationwide.
Prelude: Courage & Conviction released in the Virginia market in September and is currently available at the distillery's Visitor Center, online and at Virginia ABC stores.
Aged a minimum of three years at the distillery nestled in the foothills of the Blue Ridge Mountains of Virginia, Prelude: Courage & Conviction features notes of caramel and butterscotch and evolves on the palate with hints of dark dried fruit, raspberry, barrel spice and vanilla. The finish is creamy and exceptionally smooth. Prelude: Courage & Conviction retails for $69.99.
Prelude: Courage & Conviction will serve as a sneak peek to Virginia Distillery Company's upcoming Flagship offering of Courage & Conviction, which will be released nationally in Spring 2020. The 100% malted barley whisky is matured in former Bourbon, Sherry and Cuvée wine casks, producing a uniquely nuanced profile. These whiskies were produced under the tutelage of the late Dr. Jim Swan, known for crafting some of the world's greatest whiskies.
Virginia's pronounced temperature swings between winter and summer accelerate the maturation of the Courage & Conviction series. The whisky's name is a nod to a phrase the late founder Dr. George G. Moore was often heard saying: "Always have the courage of your convictions."
"We're thrilled to begin introducing consumers to our new, world-class American Single Malt with this limited release," Virginia Distillery Company's CEO Gareth H. Moore said. "Our customers have been very excited about the upcoming Courage & Conviction line and Prelude: Courage & Conviction is a way for us to give people a glimpse of what's to come."
As the whiskies of Courage & Conviction aged, the distillery offered its cask finished Virginia-Highland Whisky series, which marries American Single Malt made onsite with whisky from Scotland. The Virginia-Highland Whisky series is comprised of four finishes, with the Port Cask Finished Virginia-Highland Whisky as the flagship offering. The whisky won a variety of accolades, including three World Whiskies Awards. Those award-winning products will continue to be sold alongside the Courage & Conviction line.
Virginia Distillery Company worked with Trinity Brand Group to develop the brand strategy, visual identity, a bespoke bottle structure, and packaging design for the Courage & Conviction line. Trinity is an award-winning leader in the category partnering with other ultra-premium and luxury spirit brands.
Virginia Distillery Company's whiskies are available in a number of states throughout the U.S. and also can be ordered online through the distillery's website.