Virginia Distillery Company will release the second edition of its Brewers Batch Virginia-Highland Whisky series this week. Batch No. 2 was created in collaboration with 3 Stars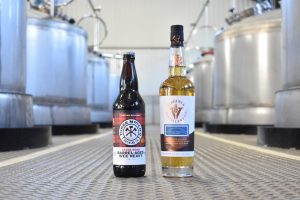 Brewing Company, a Washington D.C. brewery known for pushing the limits of creativity in artisanal craft ales. Release parties will take place at the distillery's Visitors Center on Sept. 29 and at the brewery on Oct. 21.
Last year, 3 Stars Brewing Company used Virginia Distillery Company whisky barrels to age its Barrel Aged Ale. Virginia Distillery Company took the barrels back for finishing for eight months to make its second release of Brewers Batch. This process adds complex notes of milk chocolate, biscuit, vanilla, toffee and pecan to the palate.
In February 2018, Virginia Distillery Company introduced the Brewers Batch series in collaboration with Three Notch'd Brewing. The inaugural offering was recognized with a gold medal by the 2018 International Wine & Spirits Competition's Critics Challenge and the 2018 Los Angeles International Spirits Competition.
Along with an annual Virginia project, the Brewers Batch series will continue to collaborate with breweries in markets outside of Virginia where Virginia Distillery Company whisky is available.
"We love partnering with passionate makers and are proud to collaborate with the talented team at 3 Stars Brewing," said Gareth H. Moore, Virginia Distillery Company's CEO. "We know consumers will enjoy the latest offering in the Brewers Batch series and look forward to working with more breweries in the future."
The new whisky will be available beginning Sept. 29 at the distillery's Visitors Center at 299 Eades Lane in Lovingston, VA 22949, and later on in D.C. and Maryland, along with other markets. The 750 ml bottle retails for $64.59 plus tax. 250 cases were produced.
"We were very excited to work with the Virginia Distillery Company on this project, as they are like-minded, local producers bringing exciting products and innovation to the region," said Mike Dee, Vice President of Sales at 3 Stars Brewing Company. "We can't wait for the public to be able to experience both finished products soon."
The Brewers Batch Virginia-Highland Whisky is one of several other available offerings from Virginia Distillery Company, including the distillery's flagship Port Cask Finished Virginia-Highland Whisky, Cider Cask Finished Virginia-Highland Whisky and Chardonnay Cask Finished Virginia-Highland Whisky.
The distillery is currently crafting its ultra-premium American Single Malt, Courage & Conviction. The flagship offering, made from 100% malted barley and aged in former Bourbon, Sherry and Cuvée wine casks, will be released in the spring of 2020. The name is a nod to a phrase founder Dr. George G. Moore was often heard saying: "Always have the courage of your convictions."