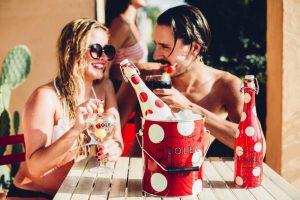 Spain's Zamora Company has acquired a strategic stake in leading Sangria brand, LOLEA.
LOLEA is a brand whose positioning transcends the premium Sangria category, giving a growth potential perfectly matched to the vision and capability of Zamora Company,' states Emilio Restoy, CEO of Zamora Company. The purchase has been made directly from the four founders in Spain and other two partners in the US who will continue to work with the brand to preserve its essence and to increase, with their experience, the project potential. 'We are delighted to have the opportunity to work with Lolea's founders who, in a very short period of time and with limited resources, have managed to create an iconic brand and positioning it as the unquestioned leader,' adds Emilio Restoy.
With this latest acquisition Zamora Company adds to its catalogue a pioneering brand which is a category leader and already showing growth, besides reaching a highly desirable target market – from Millennial to ABC1 Consumers- looking for a quality, low alcohol product that can be enjoyed at any time of the day.
Launched in 2013, LOLEA is a crafted Sangria based on an exclusive recipe combining high quality wine and fruit, with different wine based cocktails available: with Red Wine (LOLEA Nº1), White Wine (LOLEA Nº2), Dry White Wine (LOLEA Nº3 or BRUT), Organic Red Garnacha (LOLEA Nº4) and its latest Rosé Wine based sangria (LOLEA Nº5 ROSÉ). In just four years, the brand has reached sales of 130,000 cases via distribution in over 60 countries and is currently number one Gourmet Sangria in its domestic market. In addition to the high quality of the product and its exceptional innovative image, there is a clear link to Spanish cuisine making LOLEA a Premium brand with an international vocation.
Zamora Company provides a differentiated value in terms of sales and marketing with a large skilled sales staff and a solid network of national and international partners and is to considerably increase investment in brand-building in an aim to strengthen LOLEA's results in the medium term. LOLEA joins a portfolio which has also seen the recent addition of world-class brands such as Villa Massa Limoncello and the US craft whiskey brand Yellow Rose, enabling the Spanish beverages company to become a key player in the sector at a global level and establish the foundations of its own growth plan.
LOLEA co-founder Bruno Balbás says, "For us, LOLEA is a creation based on passion, commitment, the quest for quality and years of intense work. Now, following the success we have had, we are delighted to work with Zamora Company to strengthen this journey and open up new horizons for Lolea, and to position the brand on a new global stage. We are convinced that we are leaving Lolea, which we deem to be almost a part of our family, in the best possible hands."
Restoy adds, "We are going to sensibly strengthen the investment in route-to-market and marketing direct to the Consumer. Our aim is to make LOLEA a leading lifestyle brand which moves beyond purely the premium Sangria category, reaching new Consumers who want to enjoy quality cocktails in a fun, relaxing way. We value a growth above 20% in key markets (Spain, USA, Canada, Australia, France, Benelux and Germany), specifically, in US market, the LOLEA´s US partner, continues with the management and leadership of the brand through the Bodega Barcelona distribution. Our vision is to surpass 350,000 cases in the medium term – beginning with the current 130,000 case sales figure."
LOLEA is craft-made sangria based on the brand's own recipe combining high quality wine and fruit and is the absolute leader in its category. Its moderate alcohol content, (7% alc. vol.), its sparkling touch and its taste of fruit make Lolea the perfect cocktail at aperitif time, with lunch, mid-afternoon and of course in the evening.
Sangria Lolea is synonymous with social gatherings, celebration and joy. The perfect refreshing drink for parties and gatherings, with friends and family gathered around a large glass of chilled Sangria, LOLEA brings a sophisticated touch with style and taste.
The agreement has been signed with the financial collaboration of Koru Advisors, an independent firm specialized in the beverage industry, acted as Financial Advisor to Zamora Company and Baker McKenzie as Legal Advisor. Alantra acted as Financial Advisor to Lolea and Argali Abogados an PAG Law as Legal Advisors.