Prairie Organic Spirits, the leader in certified organic spirits, is debuting its new packaging on store shelves starting this April. The revamped bottle represents the brand's uncompromising commitment to making organic spirits with unmatched quality. This starts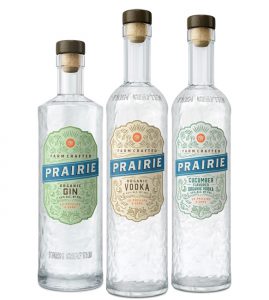 with Prairie's organic farmers who grow organic corn free of harmful chemicals, gluten and GMOs, and includes a production process through which its organic vodkas and gin are distilled to taste, rather than a prescribed number of times.
This craftsmanship is represented through the bottle's new custom hammered design and wooden cork cap. The label on each of the three varieties uses a combination of familiar and new colors, including earth tones and design elements representative of Prairie's organic sourcing and farm-crafted commitment, as well as a common blue denim Prairie logo banner to unify the family line up.
"For the past decade, we've developed strong relationships with local family farmers who work meticulously to meet high certified-organic standards. We wanted the spirit of this work ethic and our farm-crafted commitment represented in the new custom hammered bottle design," said Scott Meek, Vice President of Marketing for Prairie Organic Spirits. "We're also proud of the way our new bottle showcases Prairie Organic's award-winning quality, and are confident this new look will help strengthen our presence in key retail environments."
Prairie Organic's vodka and cucumber vodka expressions now feature longer bottlenecks for an easier pour. Prairie Organic gin, the fastest-growing national brand in the gin category1, also gets its own custom bottle. All three new bottles are available in 50ml, 375ml, 750 ml, 1L and 1.75L varieties and will be rolling out at on-premise and off-premise accounts, as well as featured in advertising, communications and in-store materials starting this spring.
Prairie Organic Spirits, based in Princeton, MN, produces farm-crafted spirits using single-sourced, vintage corn grown on family-owned, organic Midwest farms. The #1 USDA Certified organic spirits brand, Prairie Organic Spirits distills each batch to taste, with a commitment to high quality ingredients. Phillips Distilling Company founded the brand in 2008 with a mission to handcraft organic, world-class spirits using the fewest natural resources possible.