Hope Springs Distillery, the premium, small-batch distillery located in the heart of Lilburn, Georgia, announces the release of its absinthe, Illusion, a natural spirit made with high-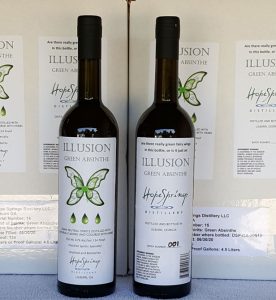 quality, carefully selected herbs and ingredients. After three years of experimentation and perfecting the recipe, the Illusion Absinthe will hit shelves across the state, joining Top Hat Vodka and Garner Creek Gin in Hope Springs' portfolio of products.
"I have wanted to launch an absinthe ever since I first took a class in distilling with botanicals in 2014, so we're really happy to share Illusion Absinthe with the public," says Betsey Dahlberg, co-owner of Hope Springs Distillery. "This product is so special to us. We have perfected this recipe and are proud to add another locally sourced, handcrafted spirit to our lineup, and we look forward to sharing it with the Atlanta community and beyond."
Dahlberg and co-owner Paul Allen opened Gwinnett County's first distillery since Prohibition in July of 2017, producing small-batch spirits from start to finish. Following the launch of the distillery's vodka and gin, the two wanted to develop a quality liquor not normally found on shelves, so they started work on Illusion Absinthe. Absinthe has long been viewed as the famous 'Green Fairy,' a mysterious hallucinogen popularized by artists and writers like Ernest Hemingway, Vincent Van Gogh and Pablo Picasso. Although many are unfamiliar with the product, and tend to shy away from using it in at-home mixology, the Hope Springs team hopes with the release of Illusion, to debunk those stereotypes and allow Georgia residents to become knowledgeable about absinthe and try it for themselves.
Illusion Absinthe is an all-natural, herb-forward spirit made with the classical three herbs, wormwood, green anise and fennel, and five other herbs. The finished product has the classical licorice taste and a natural green color from the herbs. Absinthe can be prepared with an absinthe fountain or simply by mixing with very cold water, which will cause the spirit to louche and turn cloudy as the anise oil is opened up. Dahlberg and Allen recommend drinking Illusion Absinthe in a cocktail, the most famous of which is the Sazerac, a mix of absinthe, whiskey, a sugar cube and bitters. Absinthe is also very good for digestion, so it is often enjoyed as an aperitif before meals.
Similar to Hope Springs' other signature spirits, Top Hat Vodka and Garner Creek Gin, Illusion Absinthe is hand-crafted, bottled and produced exclusively by Dahlberg and Allen in their Lilburn distillery. The products' names are often inspired by the local community, mentioning historical figures from Lilburn or the city itself. The bottle's label is designed by Dahlberg and represents the illusion of the green fairy. Illusion Absinthe will be available for purchase from Hope Springs' tasting room, in retail liquor stores including Royal Package located in Lilburn, and bars and restaurants throughout the state of Georgia for about $50 per bottle. It can also be ordered by retailers directly from the Savannah Distributing Company per customers' requests.
The distillery's 4,000-square-foot facility is located on Railroad Avenue in Lilburn's historic Old Town, an area home to charming retail and restaurant destinations including popular 1910 Public House, Agavero Cantina Parkside and Antiques in Old Town. Hope Springs' tasting room allows spirit lovers to take a tour of production, taste the Garner Greek Gin, Top Hat Vodka and Illusion Absinthe firsthand, purchase bottles to take home and learn more about the products and history from the owners. The distillery also offers curbside sales from their back door every Friday and Saturday afternoon.
For more information about Hope Springs and its products, visit the distillery's website here and check out Hope Springs' Facebook page and Instagram for the latest news regarding tastings and tours.