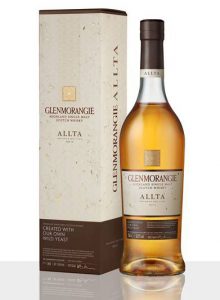 For a decade, Glenmorangie has invited whisky aficionados to explore its passion for innovation through its acclaimed series of rare and intriguing limited-edition single malts. To mark the tenth anniversary of the Highland distillery's Private Edition series, Glenmorangie introduces the tenth release in the award-winning collection – Glenmorangie Allta – the first single malt whisky created from yeast growing wild on the distillery's own barley.
Glenmorangie Allta (Scots Gaelic for 'wild' and pronounced 'al-ta') reveals the often-overlooked importance of yeast and its impact on flavor in the whisky making process. With a background in yeast physiology, Glenmorangie's Director of Distilling, Whisky Creation & Whisky Stocks, Dr. Bill Lumsden, remained aware of yeast's potential. Years ago, he recalled a little-known story the late, great whisky writer Michael Jackson had told him, about a unique "house" yeast Glenmorangie was said to have possessed – which inspired Dr. Bill to explore wild yeast's effect on Glenmorangie's spirit.
Dr. Bill collected a few ears of Cadboll barley in the fields near the distillery and after analysis in the laboratory, he discovered Saccharomyces diaemath, a species of wild yeast unidentified until that point. He arranged for the yeast to be cultivated and brought it together with the distillery's barley in the whisky-making process. Then, he transferred this spirit into superior ex-bourbon barrels, including many second-fill casks, to showcase the fruity character given by the yeast. The rich, creamy whisky which emerged years later, achieves a balanced spectrum of aroma, taste and texture using whiskies of various ages.
Tasting Notes: Glenmorangie Allta Private Edition Single Malt Whisky
Glenmorangie Allta is non-chill filtered and bottled at 51.2% ABV.
Color: Pale straw
Aroma: Rounded, with biscuity, yeasty tones. Gentle floral notes of carnations and Parma violets, baking bread, very gentle vanilla, soft raisins and sweet mandarin orange.
Taste: A crisp citrus bite to the mouthfeel. Butter candy, creamy vanilla, orange syrup with slightly yeasty background. Gentle mint, the tiniest hint of sweet chili and delicate, dancing, floral notes.
Finish: Long and earthy with hints of bittersweet orange and peppermint.
SRP: $99
"Glenmorangie Allta is a worthy whisky with which to mark the Private Edition's tenth anniversary," says Dr. Bill Lumsden who has worked with the Whisky Creation team since 2009 to explore the rare cask finishes in the series. "Yeast's influence on taste has been overlooked for years, but it's an area ripe for exploration. With a nose of biscuit, baking bread and floral notes, and rich tastes of vanilla, orange syrup and sweet chili, Glenmorangie Allta opens up compelling possibilities for the future of Scotch whisky."
Glenmorangie Allta will be available in specialist whisky shops worldwide and at The Glenmorangie Distillery Visitor Center. The natural tones on the packaging are designed to evoke the wild yeast and barley fields, which inspired the whisky.