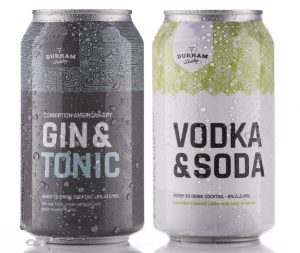 Durham Distillery, a global award-winning gin, liqueur, and vodka distillery voted a Top 3 Craft Gin Distillery in the U.S. by USA TODAY and chosen the Best Distillery in the Triangle for the past three years, announced today its entrance into a new market with the launch of its own ready-to-drink premium cocktails. A signature gin and tonic and a vodka and soda are the first products in a line of canned cocktails made right here in the Triangle with the distillery's award-winning spirits. These are the first-to-market canned cocktails in North Carolina and two of only a handful offered across the U.S.
Conniption American Dry Gin & Tonic is made with the distillery's Conniption American Dry Gin (recognized as one of the best contemporary gins in the U.S.), the distillery's house-made tonic, and a blend of natural Meyer lemon, orange, and lime—all perfectly mixed with the right amount of carbonation. The simple and fresh ingredients lend themselves to being consumed as is or with a garnish of your choice.
Cold Distilled Cucumber Flavored Vodka & Soda features two classic ingredients: the distillery's Cold Distilled Cucumber Vodka (named a Best New Vodka of 2017 by Supercall) and bubbly club soda, ideal for drinking ice cold with a citrus squeeze.
Each of the products comes in a four-can pack that retails for $15. The canned cocktails will be available in mid-August in the ABC store system in North Carolina. Expanded distribution across the Southeast, including South Carolina and Georgia, is expected shortly thereafter.
Each 12-ounce can (8% ALC/Vol) contains two servings, perfect for consumers to enjoy at their leisure with the convenience of an already mixed cocktail. Both cocktails are gluten-free and made without artificial ingredients or high-fructose corn syrup, so there is nothing to sacrifice in flavor or quality (in contrast to other canned forms currently on the market that are malt beverage-based).
"Having been in the market for three years now, we wanted to create something so that people could enjoy their favorite cocktails in a refreshing, no-hassle way and that was convenient for busy lifestyles," said Durham Distillery's head distiller and co-founder Lee Katrincic. "These canned cocktails are made at precisely the right ratios with our spirits. The house-made tonic is also crafted to carefully complement and enhance the botanicals in our Conniption American Dry Gin."
Adds Melissa Katrincic, president and CEO of Durham Distillery, "The ready-to-drink cocktail market is a logical extension for us, given the strong reception our gins and vodka have had both across the Southeast and in the United Kingdom. Industry canned drink trends are here to stay, and we are thrilled to be 'first-movers' across the South, and especially in providing these to our consumers at home in North Carolina."
To date, Durham Distillery's products have won more than 30 consumer, trade and industry awards. In 2018, it doubled the size of its distillery operations to house new equipment and production facilities, allowing the spirits maker to double capacity and expand distribution, including to Europe. Since the Conniption gins launch in 2015, Durham Distillery has built a cult following for all of its products and currently has a footprint across nine states and in the U.K. Just recently, Lee and Melissa were inducted into the London-based global industry group, The Gin Guild, which brings together gin distillers and industry leaders to further excellence in gin distillation and its promotion. Membership to The Gin Guild is by application review and peer recommendation, and is exclusive to those upholding the highest standards of the gin industry. They are only the fourth and fifth American distillers to be inducted, and the only distillers from the American South – a huge honor for the Katrincics.