Disaronno, the world's favorite Italian liqueur¹ and Jack Daniel's the most valuable spirits brand in the world², are proud to announce the launch of Velvet Fire, a national partnership between Disaronno Velvet Liqueur and Jack Daniel's Tennessee Fire. Best served chilled or consumed as a shot, Velvet Fire combines two parts Disaronno Velvet and one part Jack Daniel's Tennessee Fire.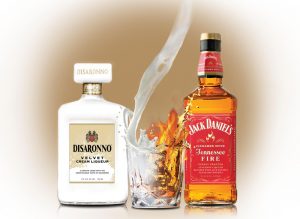 Velvet Fire blends the creamy hints of toffee and apricot from Disaronno Velvet with the warming notes of cinnamon liqueur and unmistakable character of Jack Daniel's Old No. 7 Tennessee Whiskey for a distinct and smooth cinnamon pour. Velvet Fire opens the door to where the Italian elegance of Amaretto meets the legendary world of American whiskey. A celebratory and indulgent drink without seasonality, Velvet Fire is ideal for any and all occasions.
"Disaronno is honored to partner with Jack Daniel's to create Velvet Fire," said Ignacio Llaneza, Vice President of Brand & Trade Marketing for Disaronno. "The timing was perfect with the exciting growth of both the flavored whiskey and cream liqueur categories. The mixability of Disaronno Velvet combined with Jack Daniel's Tennessee Fire makes for a very unique tasting experience that will intrigue many palates of spirits and cocktail lovers."
Launched in April 2020, Disaronno Velvet is the newest innovation to the liqueur category from the iconic Disaronno brand. Bottled at 17% ABV, Disaronno Velvet boasts the floral character of almonds with nuances of chocolate and vanilla, all while providing the quintessential Amaretto flavor profile of Disaronno. Disaronno Velvet is best served over ice, or by adding a touch of Italian elegance to cream cocktails.
Jack Daniel's Tennessee Fire launched globally in 2016 and has since become one of the top selling flavored whiskies in the world, offering whiskey enthusiasts a new way to enjoy Jack Daniel's. At 35% ABV, Jack Daniel's Tennessee Fire is crafted with Jack Daniel's Old No. 7 Tennessee Whiskey and is naturally infused with a proprietary cinnamon liqueur for a smooth and delicious taste.
"We're extremely excited about this new partnership with Disaronno to introduce Velvet Fire to our friends around the country," said Lauren Richmond, Jack Daniel's Tennessee Fire Brand Manager. "Bringing these two iconic spirits together will build on their popularity and success to leverage the mixability of both brands in a unique way."
Velvet Fire, which features a 750ml bottle of both Disaronno Velvet and Jack Daniel's Tennessee Fire, is now available nationwide with a suggested retail price of $49.99. The suggested retail price for Jack Daniel's Tennessee Fire is $19.99, with Disaronno Velvet available at a suggested retail price of $29.99.
Note¹: source IWSR 2019 – International Wine & Spirit Research
Note²: source Interbrand 2020 Best Global Brands