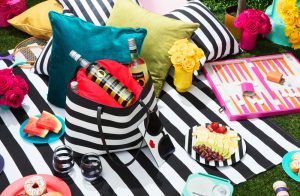 Ecco Domani Pinot Grigio has collaborated with acclaimed fashion designer Stacey Bendet of the alice + olivia brand to create a limited-edition label for the summer season. Available in stores nationwide beginning June 1, the statement-making label shapes Ecco Domani Pinot Grigio to be the must-have accessory for summer's sipping and entertaining occasions.
Inspired by Stacey Bendet's first-ever striped pants design for alice + olivia, the limited-edition label symbolizes personality and strength, while celebrating Ecco Domani Pinot Grigio's classic modernity and bold style. Wrapped in a series of black stripes, Bendet's label design creates a striking statement piece perfect for elevating homes and experiences, long after the wine inside has been consumed.
"I wanted something that blended the aesthetics of alice + olivia and Ecco Domani," said Bendet on her design process. "Ecco Domani is known for its classic, bold, symbolic taste, and alice + olivia has that same consistency in style by having a stripe in its collections. As soon as we started working with Ecco Domani, the idea was to do a striped bottle to honor both brands."
While the label's stripe motif embodies both classic style and contemporary taste, the wine inside is just as timeless and bold, from its delicate citrus-forward aroma to its crisp, refreshing finish. The striking label design combined with the Pinot Grigio's exciting flavor profile creates the perfect tabletop accessory for the summer season.
"The label design from alice + olivia by Stacey Bendet perfectly represents Ecco Domani Pinot Grigio's commitment to boldly transform the everyday routine," said Maud Pansing, Vice President of Marketing for Ecco Domani. "Stacey has uniquely interpreted her iconic stripe pattern, creating a label design that enables our fans and consumers to make a sophisticated, confident statement with their wine."
The alice + olivia by Stacey Bendet-designed label for Ecco Domani Pinot Grigio is available in stores nationwide beginning June 1 for a suggested retail price of $10.99.