Videotel Digital, the leading manufacturer of industrial grade digital signage media players, looping DVD players, innovative touch and touchless interactive solutions, and directional sound speakers, offers an automated solution to control and limit traffic into any facility without putting multiple workers at risk.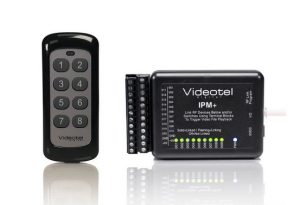 Videotel Digital's RF PUSH Handheld Remote is an interactive digital signage solution that can be operated by a single worker stationed at a safe distance to trigger content on a display located at the restaurant's designated entrance. Emulating simple queuing, pre-recorded content can feature safety guidelines for entry until triggered to allow entry for one or more people. The eight-button RF REMOTE connects with the IPM+ Interplay module wirelessly and in combination with either of Videotel Digital's media players operates the screen from a distance of up to 50 feet.
Lisa Schneider, Videotel Digital's EVP of Marketing and Sales said, "We are living through a uniquely challenging time for restaurant operators and want them to know that there is an easy and affordable solution available to help them keep their workers and customers safe."
For more product information, go to https://www.videoteldigital.com. You can also email Lisa Schneider, Executive Vice President of Sales & Marketing at [email protected] or call her at (619) 670-4412 x27. You can follow Videotel on twitter (@Videotel) or Facebook (facebook.com/Videotel). For new product updates use #NewatVideotel.