Bombay Sapphire recently celebrated World Creativity Day on April 21 with a Creativity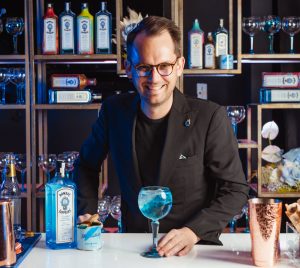 Text Message Hotline. By texting in during a four-hour window, participants could chat with Creative Director and Entrepreneur Jessica Walsh and Bombay Sapphire Brand Ambassador Ryan Wainwright, who answered questions and offered insider tips on how to be creative from the comfort of home.
The Creativity Text Message Hotline was created to combat the stressful effects of self-isolation through creativity. It comes on the heels of the debut of Bombay Sapphire's Create From Home—an online initiative offering complimentary online classes and workshops with digital platforms, including Hunker and Society6.
We recently caught up with Wainwright to find out how the Creativity Text Message Hotline went and to ask his advice on how bartenders can stay creative and connected during the COVID-19 pandemic.
Bar Business Magazine (BBM): Tell us about your experience with the Creativity Text Message Hotline.
Ryan Wainwright (RW): I loved it. I really enjoyed helping people in all types of situations. Some were just looking for ways to make the perfectly balanced Bombay Mule and others were planning a wedding and needing help for a bright, refreshing welcome drink with Bombay Sapphire. I was able to talk with upwards of 40 different people and help them make something fun and inspiring for World Creativity Day, and I like that it kept me on my toes. I even had someone ask about a soy sauce drink! My biggest takeaway was that while we may be confined to the resources we have on hand at home during quarantine, it is clear consumers still want to get creative and make quality cocktails.
BBM: Do you have any tips and tricks for how bartenders can stay creative and continue to hone their skills?
RW: Honestly, my biggest tip is to make what you love and have some fun with it. Personally, I've been buying fresh fruit from the store, taking certain fruit from home that's starting to get a little too ripe, and I've been playing with them. I had some blueberries that were needing to be eaten so I made a blended blueberry Bombay Lemonade. It was awesome. Don't be scared to play and taste. If it tastes like it's missing balance, check to see if it's missing sweetener, acid, or bitter and play with it.
Another important tip is to stay simple. Simple can still be delicious. For me, I'm always making 3 ingredient drinks and then throwing those fruits in. A Bombay Lemonade with blueberries, a Bombay Gimlet with mangos, or my most recent a Bombay Martini with strawberry-infused vermouth. I just took my Martini Extra Dry Vermouth and infused it over night with cut strawberries I needed to use up. The next day I did equal parts Bombay Sapphire and that infused vermouth with one of the infused strawberries as the garnish. It was so simple, delicious, and easy!
BBM: How can bartenders stay connected with peers and customers during this time? Can social media play a role?
RW: Social media is definitely the way. I've kept in touch with so many people on there. There's so much information on Instagram these days on making drinks at home and how your favorite bar teams are doing and coping. One of my favorite things about bartenders is how creative they are. They've definitely kept me laughing during this challenging time. Also, if there are restaurant/bars in your area that are still able to serve via to-go and delivery services, please be sure to help in any way you can. They need our love now more than ever!
BBM: How are you staying inspired during self-quarantine?
RW: There is no one way and every day has presented a new challenge. I find myself diving a lot into music and little cocktail experiments for inspiration. I also really appreciate our partners at The Other Art Fair so much right now. They have created, in partnership with Bombay Sapphire, an online platform called "Create from Home" and I have found a lot of inspiration on there. I particularly love the weekly drawing challenge from Society6, where their featured artist picks something for everyone to draw and you all get to interpret it in your own way. I must say, my potted cactus was dope! Also the Drink and Draw Instagram Live session we had last week with Society6 artist Maggie Stephenson and Pam Wiznitzer was a ton of fun. These creative activities really help me clear my head and feel refreshed to face each day as it comes.
BBM: Do you have a cocktail recipe to mix up at home that you can share?
RW: Always! I love the martini I mentioned above but I also love this blended fruit sour I've been doing—I call it the Blender Flower because it is a twist on a classic Suckle cocktail but with fruit (see a theme yet? I love fruit).
Here's Ryan's recipe:
Blender Flower
Ingredients:
2 parts Bombay Sapphire
1 part lime juice,
1.5 parts honey syrup (3 parts honey to 1 part hot water just to loosen it up for blending)
Handful of fruit
Directions:
Add all ingredients to a blender. Add ice to the blender just so the ice fills the fluid line (it's a fair amount of ice). Blend it up. Tips: If the fruit is sour like a raspberry, add less lime. If it is sweet like an overripe mango, add less honey.