In the "spirit" of a bright new year, Cocktail Chameleon, the brand by writer, designer, and entertaining expert Mark Addison, is launching a newly designed online store of resources and gifts for the cocktail lover with a new fundraising initiative to benefit the US Bartenders' Guild (USBG). All products are inspired by Mark Addison's "Best in the World" award-winning book Cocktail Chameleon, in which Mark invites the reader to join him as he dresses up twelve classic cocktails in twelve unique variations for 144 signature cocktails.
With the start of 2021, the Cocktail Chameleon brand is launching a fundraising campaign to ""Serve Those Who Have Served Us": Bartenders! Through the US Bartenders' Guild National Charity Foundation, Cocktail Chameleon is raising funds for the Bartenders Emergency Assistance Program. Founder Mark Addison will donate 100% of all proceeds from his Cocktail Party Face Masks, designed with his classic cocktail illustrations, and 10% of site-wide sales to the USBG program to help bartenders who are experiencing hardship due to COVID-19 bar closures and layoffs. Additionally, cocktail lovers making a Cocktail Chameleon purchase will have the opportunity to leave a "tip" at checkout with an option to round up for the USBG National Charity Foundation.
"With the ability to visit one's favorite watering hole extremely limited at the moment, this is a great way to show support for those individuals who have served us as patrons with their master mixology and impeccable service", says Addison.
Cocktail Chameleon products serve to enhance any cocktail enthusiasts' home bar experience, both practically and aesthetically. The new store is laid out in "collections" to make this online shopping experience as pleasing as a trip to a well-curated yet accessible gallery. Collections include Accessories, Home Art, Bar Tools, Books, Textiles, and Cocktail Ingredients. All products are exclusive to Cocktail Chameleon and all Cocktail Ingredients are made with care in small batches on Monsalvat Farm in Vermont.Featured Cocktail Chameleon 2021 products
*10% of profits from all products will be donated to the USBG National Charity Fund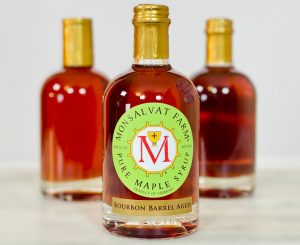 NEW Bourbon Barrel Aged Maple Syrup:
Our original pure Vermont Maple Syrup has been aged in a recently emptied bourbon barrel for 6 months, heated to 190º, and triple strained before being bottled and numbered. The aging process creates a richer and more smokey maple syrup idea for beverages and cocktails – a Limited Edition of only 100 numbered Nordic-style bottles! – $22 for a 350 ml bottle
Cocktail Party Face Masks: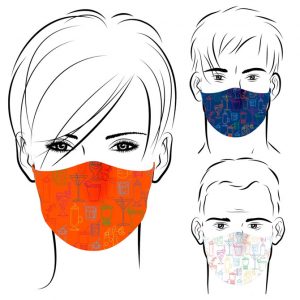 Host in style with these Unique, customized, fashionable, and elegant face mask custom printed by Anne Touraine Paris featuring retro-style cocktail illustrations by Mark Addison. The breathable cotton fabric is custom printed and sewn with three layers including an interior pocket to insert disposable PM2.5 carbon filters for added protection They're designed to fit securely with comfortable ear loops and adjustable nose clip to provide a basic level of protection and a significant amount of style. Your mask can be hand-washed and line-dried. Be safe, be stylish, be well. – $19 each or 3 for $40
Cocktail Party Boston Shaker Set:
Create better classic cocktails with the multi-functional Cocktail Party Boston Shaker – the ideal bar tool for shaking, stirring and rolling cocktails with professional results. Featuring a durable 16 oz. mixing glass with iconic classic cocktail illustrations by Mark Addison. printed in full color with organic inks. The included sleek white, gold, or copper stainless-steel cocktail shaker tin is a necessary companion piece to the mixing glass, delivering a simple, practical style that works well at any home bar. $35 for White Shaker Set and $40 for Copper and Gold Shaker Sets.
Cocktail Chameleon was awarded the "Best in the World" award by the Gourmand World Cookbook Awards and named "THE BOOK to upgrade your home bar" by Esquire Magazine. Mark's entertaining and design expertise, along with his dynamic personal style, have made him a sought-after authority and he has shared his ideas on entertaining and cocktails on more than 100 television appearances. – $50 with free personalization and signed by Mark Addison.
All Cocktail Chameleon products are designed and curated by Mark in keeping with his high level of attention to detail and style.