Mack & Schuhle is pleased to announce the launch of United Ink, a new portfolio of wines from the Pacific Northwest. The lineup includes United Ink Riesling 2020 (SRP: $12), United Ink Red Blend 2019 (SRP: $18) and United Ink Cabernet Sauvignon 2019 (SRP: $18) from Washington's Columbia Valley, and United Ink Pinot Noir 2019 (SRP: $22) from the Willamette Valley in Oregon.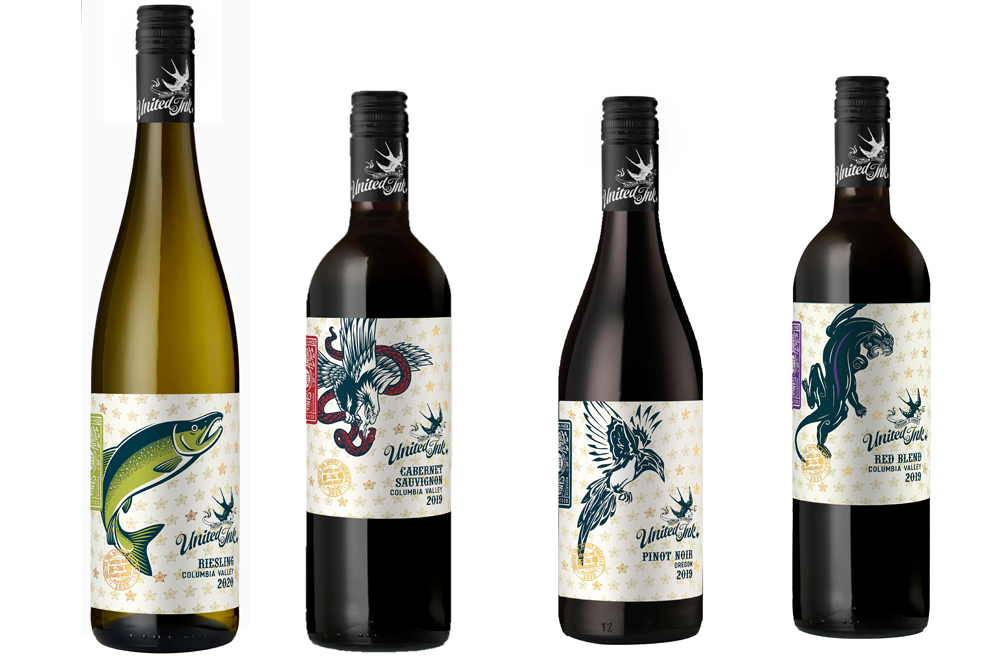 United Ink combines excellent vineyard sourcing and two of the Pacific Northwest's most renowned winemakers in one exciting brand.
As a leading Oregon ambassador and one of the most recognizable faces in the world of Oregon wine, Joe Dobbes has long demonstrated a drive for excellence. Passion, creativity and a commitment to quality have led to his extraordinary winemaking success and the value and authenticity of his wines.
Some of the first grapes crushed in Washington's Yakima Valley were made into wine by David Forsyth who soon became known for his world-class Rieslings and Merlots. Using modern winemaking technology paired with an appreciation for old world classics, over more than three decades David has applied an unrelenting pursuit of complexity and balance to his wines.
Joe and David's shared philosophy is to showcase the quality of the Pacific Northwest's wine regions by creating modern versions of the classic wines of the old world. The symbolic animal images featured on the labels of each Union Ink wine were specially designed to proudly portray Union Ink's Pacific Northwest heritage.
Sourced from a single vineyard site in the Rattlesnake Hills sub-appellation of the Columbia Valley, the United Ink Riesling label features a Sockeye Salmon, found in prodigious quantities in the Columbia River and its tributaries.
Blended from multiple single vineyard sites in Columbia Valley's Horse Heaven Hills and Wahluke Slope sub-appellations, Union Ink Red Blend produced with 90% Merlot, 5% Cabernet Sauvignon and 5% Cabernet Franc features a cougar, native to the Pacific Northwest on its label.
The majestic American Bald Eagle, commonly seen all over Washington and Oregon wine country was chosen for the United Ink Cabernet Sauvignon label. Produced from 90% Cabernet Sauvignon, 5% Merlot and 5% Cabernet Franc, the grapes for this wine are also sourced from Columbia Valley's Horse Heaven Hills and Wahluke Slope sub-appellations.
Found throughout the vineyard regions of Oregon and Washington, the Black and White Magpie was chosen as the mascot for the Union Ink Pinot Noir label. Grapes for this wine were sourced from vineyard holdings in Oregon's renowned Willamette Valley and Dundee Hills wine appellations.
The United Ink portfolio of wines are distributed nationally. Marketing support includes branded baseball hats, tees, and temporary tattoos.