Known for award-winning wines and celebrated annual releases, Duplin Winery, makers of America's favorite sweet wines, opens 2022 with the debut of a truly unique Cotton Candy collection featuring three new fruit flavors – Lime, Blueberry and Peach – in addition to the celebrated Cotton Candy Original the company introduced in May of 2021.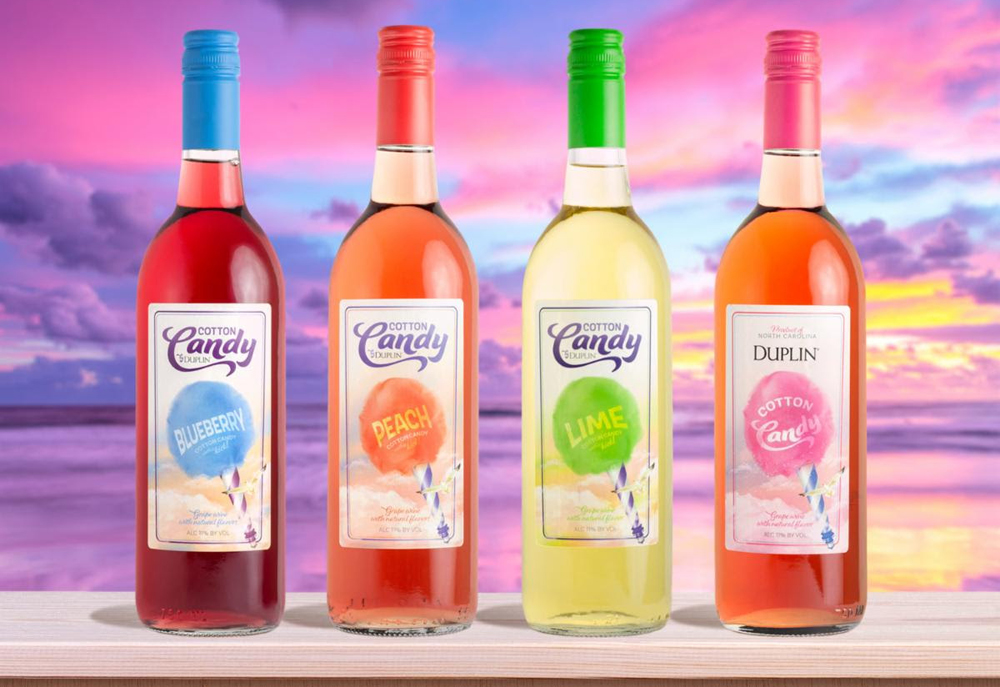 Using real fruit extracts and premium muscadine grapes grown on Duplin Estate vineyards and small family farms across the South, Duplin's master winemakers spent nearly three years developing the fun Cotton Candy blends that continue to honor Duplin's tradition of medal-worthy muscadine wines.
"Duplin Cotton Candy Original was supposed to be a one-time-only wine, but when customers and retailers found out that we were down to the last bottles, they wanted more and also asked for new flavors," Duplin co-owner Jonathan Fussell said.
"With Cotton Candy, like all our wines, we want to make people smile," Fussell continued. "Enjoying time with friends and family is what the Duplin cool, sweet and easy lifestyle is all about and these new fruit wines fit right in at so many occasions."
Cotton Candy Blueberry
A burst of true blueberry sweetness plus soft vanilla makes this red wine as delightful as blue cotton candy at the state fair. Best chilled, the fruity sipper pairs well with rich and spicy foods like grilled cheese sandwiches, candied pecans, peppercorn-crusted beef, tacos and creamy cheesecake. The wine is an essential cocktail mixer and especially delicious in Duplin's Cotton Candy Blueberry Sangria recipe.
Cotton Candy Peach
Peach and vanilla twirl smoothly around sweet berries for a rosé finer than sugar on a funnel cake. Delectable poured over frozen peaches or blended half and half with sweet iced tea and a dash of fresh ginger, Cotton Candy Peach is the go-to wine with smoky, sweet and spicy foods including brisket, juicy ribs, smoked cheeses, seared crab cakes, fire-roasted salmon and Thai or Szechuan noodles.
Cotton Candy Lime
Sweet-tart citrus rises through berry notes and spun vanilla for a distinctive white that is refreshing ice-cold. Just in time for Super Bowl and March Madness, Cotton Candy Lime fits robust party foods like chips, wings, loaded nachos, sausage balls, guacamole and slow-cooker chili. A not-to-be-missed bar mixer, Cotton Candy Lime enlivens mojitos, margaritas and Jell-O shots.
Cotton Candy Original
The berry vanilla rosé wine that started the Duplin Cotton Candy craze recalls sharing pink cotton candy and first kisses on the Ferris wheel. Best served cold, or even on the rocks, Cotton Candy Original pairs perfectly with salty nibbles like charcuterie, fried chicken sliders, baked feta and bacon-wrapped shrimp. Adaptable for all kinds of cocktails, the wine works in Cotton Candy Margaritas and a Cotton Candy Cosmo wine slushie.