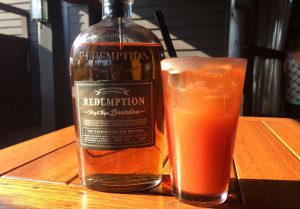 This is an article about beer, but it's also an article about whiskey. You may be thinking: outside of a boilermaker, that's an unlikely pairing.
I'm here to change your mind.
To start out, it will help to break down the division between spirits and beer. "When I was behind the bar, that separation between spirits and beer was always something that stuck in my craw a little bit," says Eric Rosentreter, Redemption Whiskey Brand Ambassador. "Rather than having a shot and a beer next to each other, it's breaking down that wall and encouraging people to be creative. There are no rules with this. And the cocktail culture being what it is, I think people tend to get a little pigeonholed and possibly intimidated by what they think they can and
can't do."
Now that we've broken down that proverbial wall, let's take a look at why beer and whiskey complement each other. "At the most basic level, beer and malt whiskey share the wonderful common denominator of water, malted barley, and yeast, which provides myriad opportunities for delightful pairings," says Glenmorangie Ambassador Clarke Boyer. "Additionally, the hops used for beer brewing and the wooden casks used for whiskey maturation both bring wild depths of complexity to the glass, just begging to complement one another."
In pairing beers with Glenmorangie's whiskey, Boyer says he looks for complementary characteristics. "The best pairings succeed because flavors complement one another," he says. "There are some beautiful citrus esters in our whiskey that pay great homage to the bright, citrusy hops in many IPAs.
"Great pairings also have a sort of yin-yang factor, where certain elements are in opposition but work in tandem to create something really amazing."
Sessionability can also come into play when pairing, according to Rosentreter, who often chooses to pair with a lower-ABV beer. "I tend to not pair whiskey with barrel-aged beers and things like that because you have one round, and you're going to be completely sideways," he says.
Both Rosentreter and Boyer offered up some suggestions for pairing their brands of whiskey with craft beers:
Redemption High Rye Bourbon with Stiegl Grapefruit Radler
"You have the high acid of the grapefruit in a Radler and that goes really well with the spiciness of the high-rye bourbon," says Rosentreter.
Glenmorangie Nectar d'Or with Colorado's Great Divide Titan IPA. "This is a very aggressively-hopped beer with a sublime malty undertone," says Boyer. "At 46% ABV and no chill-filtration, the Nectar d'Or really stands up to this ballsy beer. The rich honey and lemon meringue notes in the whiskey are the perfect dance partners for the big hop bomb that is Titan. IPA is fizzy and cold, whereas Nectar d'Or is high-proof with a lingering dry tannin on the finish—stunning to enjoy together."
Redemption High Rye Bourbon with Saisons "I like farmhouse ales, like saisons, with our rye. French or Belgian saisons just add that rustic sort of taste and a pretty unique flavor profile. It really brings out the rye sharpness and even a little bit of the dill aspects of the spirit," says Rosentreter.
Glenmorangie Signet with Samuel Adams Nitro Coffee Stout. "Signet is very unique in the single malt world in that it is driven by whiskey made from high-roast chocolate malt, weaving toffee, Turkish coffee, and dark chocolate truffles," says Boyer. "Paired with a velvety stout, this whiskey really shines."
A simple way to serve pairings of beer and whiskey is similar to a boilermaker—encouraging guests to alternate sips of the two. "While beer and whiskey may share similar tasting notes, the mouthfeel, temperature, texture, and weight of each is completely different," explains Boyer. "To experience the pairing, you must first taste the beer, allow it to coat your taste buds, noting the finish. Then, on your next sip, taste the whiskey and allow it to mingle around your mouth a bit. Note the finish there as well.
"By layering sips in this manner, you can really create some fun interplay between the texture of the liquids and notice the complementary flavors."
This tasting experience is what Glenmorangie's Dram & Craft program—which pairs single malts with craft beers—offers to on-premise guests. Surprisingly, this program isn't too far of a leap for the whiskey brand, as before 1843, the Glenmorangie distillery was a brewery, built on the site that shared the farm's Tarlogie springs water source.
The program was inspired by the company's Director of Whiskey Creation Dr. Bill Lumsden, who often enjoys a craft bar with his dram of Glenmorangie. But it was also spurred on by the proliferation of craft beer.
"Dram & Craft is the result of something we've been quietly doing for a long time: enjoying our lovely whiskies alongside a delicious beer," says Boyer. "There is no denying the prevalence of craft beer in the on-premise today. Simply stated, our thinking was why not attach our star to that and provide a really fun, new way for consumers to understand their dram."
The program is one that any bar
can implement in their own venue, especially if your staff has a passion for beer and whiskey and the desire to facilitate new tasting experiences.
"We can offer training and really cool
assets that showcase the pairings. For example, we have these really neat metal neck badges that can be hung on our bottles denoting what type of beer goes best," says Boyer. "We can also produce menu inserts and other assets that advertise the program.
"This is all about creating an experience for guests that they will remember and come back to try again. Given the limitless possibilities for whiskey and beer pairings, the opportunity to get creative and encourage guests to explore can certainly lead to increased sales."
Rosentreter agrees. "People respond really well to fun, creativity, and new experiences."
Boyer also noted that Glenmorangie is interested in teaming up with regional breweries to seek out new pairings with their whiskies. "Bars and restaurants are often in the best position to facilitate these partnerships," he says.
There are other ways beer and whiskey can be brought even closer together, as Rosentreter has demonstrated with his beer syrups and shrubs.
For syrups, he replaces the water in simple syrup with beer. "Depending on the style, I'll use a little less sugar because most simple syrups that I do are a one-to-one ratio," he says. "Since beer is naturally pretty sweet and there's a lot of sugar in there, by weight I'll do a half portion to a quarter portion of sugar to beer and boil it down. It's definitely a low, low boil. It takes a little bit of time, but it's a really cool thing."
Rosentreter cites the example of a recent Old Fashioned he made where he replaced the simple syrup with his raspberry tart beer syrup. "It brings out different flavor profiles," he says.
Shrubs can also be made with beer. Since they tend to be a bit more sour and acidic thanks to the vinegar, Rosentreter chooses to use sour beers like a Gose or Berliner Weisse. He's even used sour beers to replace the citrus in a cocktail.
"At first, you think beer is a lot more expensive," he says, "but then you start to factor in the time it takes to juice citrus, and that's where it starts to level off a little bit with the cost of beer."
Above all, both brand ambassadors said bar owners shouldn't be afraid to experiment with beer and whiskey pairings. "I always try to encourage people to experiment," says Rosentreter. "Just practice, have fun, and don't get discouraged."
By Ashley Bray
Photo: Redemption Whiskey.