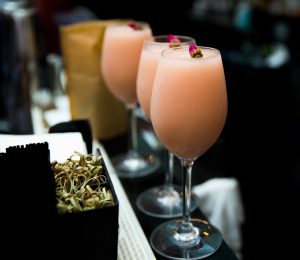 Ingredients:
1 oz VDKA 6100
2 oz Rose wine
1/2 oz Lemon Juice
1/2 oz Lime Juice
1/2 oz Grapefruit Juice
1 oz Simple Syrup
1/2 oz Peach Schnaps
Directions:
Combine ingredients, add ice, and blend on high until smooth.  Serve in wine glass and garnish with rose petals.
Courtesy of 6100 VDKA. Available at The Chester.