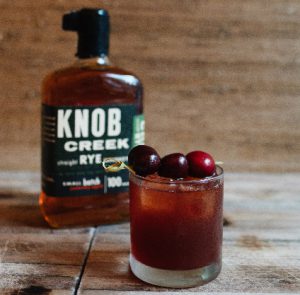 Ingredients:
2 parts Knob Creek® Rye
1 part sweet vermouth
1 whole fresh cherry
Rinse of coffee liqueur
1 dash Angostura® Bitters
Directions:
Muddle one cherry in a mixing glass. Add Knob Creek® Rye, sweet vermouth and Angostura® bitters to the glass, and let it sit about a minute. Fill the glass with the largest ice cubes available and stir until cold. Put a dash of coffee liqueur around the inside of a chilled, stemmed glass. Pour the cold drink into a rocks glass, using a strainer to catch any cherry bits.​​
By Kyle Davidson (Chicago, IL)