In this first installment of a two-part series on bartenders who make the most
of their ingredients in an effort to reduce waste, we talk with China Morbosa, Bar Manager of The Eveleigh in West Hollywood, California.
Morbosa comes from a family of farmers and horticulturists who traveled around New Mexico doing mi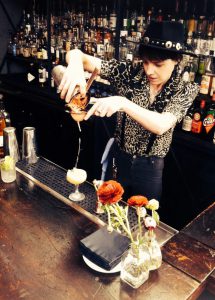 grant farm work, so fresh ingredients and a mindfulness about what she uses and how she uses it comes naturally. She's also very attuned to the way liquor companies treat their employees, the farmers they work with, and how their
product and processes affect the environment. "I spent a long time researching the alcohol that we have here," says Morbosa. "At the end of the day, most of those products are the best-tasting products that you have on the market even though they might not have a huge brand behind them."
1 Tell me about The Eveleigh.
The two owners are both Australian, and they named it The Eveleigh because that area in Australia was a really poor, dangerous area. They started a farmer's market there, and it completely revitalized the area. So the idea of naming it The Eveleigh here was that we're focusing on something that would strengthen the community but that was also really focused on farm to table; fresh, local ingredients; and seasonal menus. We even have an herb garden that we use at the back of the restaurant.
2 What are some of the ways The Eveleigh reduces waste?
We reuse a lot of different materials. We don't have water bottles. We have a water filtration system that we use, and we refill recycled vodka bottles. Also California itself has been in a drought. So at nighttime we don't burn any of the ice; we actually take the ice and put it outside. It's about being more conscious and not overusing everything.
3 What are some of the ways you use ingredients that would otherwise be discarded?
It's hard to use everything, obviously, but there are some things that people usually would discard that you can take and do incredible things with. We use all of our peeling fruits and then juice them the next day instead of throwing them out. I've been into making different shrubs with things that wouldn't normally be used, like unripe fruit. (Note: Shrub is a syrup made out of fruit and vinegar.) We make all of our own syrups, tonics, shrubs, everything.
4 Tell me about your Tepache.
Tepache is a peasant drink in Oaxaca, Mexico. One of our bar staff is from Oaxaca, so we started using his old family recipe to start making our own tepache. It's funky, it has this really amazing fermented flavor to it. Basically you take pineapple—the rinds and the whole thing—and ferment it with piloncillo, which is a cane sugar, and then add some different ingredients for flavoring. We finish it off with some beer at the end. For the beer in the tepache, I will usually take the runoff from the draft to diffuse that with the fermented pineapple because it gives it a little bit more of a funky flavor and also because it's something that you usually just pour down the drain.
5 What are the challenges in running a bar program focused on reduced waste and fresh ingredients?
I'm very fortunate to have bartenders that I work with that are very into what they're doing, and they're very passionate about bartending and spirits. The biggest challenge is that there's just never enough time in the day to do everything. Between trying to explore new flavors and new alcohols, and also educating everyone about them, it's a never-ending job. But you also get some of the best cocktails I've ever had anywhere, so we take a lot of pride in what we do.
6 Any advice for bar managers looking to be mindful of waste?
You basically have to start from the bottom up. See how much you use of something so you're not making too much of it. Make an effort to not over-juice things, to not over-order things, to not make syrups that will go bad, etc. Recycle as much as you can—bottles, containers—because that's a huge amount of waste that goes through bars. Try to not buy things that are used once and thrown away. Having a soda gun is amazing compared to using a bunch of bottles and cans.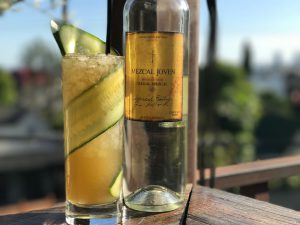 It's about little mindfulness things.
View Morbosa's Zaragoza Street recipe.
By Ashley Bray
All photos: Thomas Lambiase