The GlenDronach Distillery, Scotland's renowned producer of sherried single malt whiskies, is pleased to announce the exclusive release of The GlenDronach Kingsman Edition 1991, a unique collaboration with Marv films and Twentieth Century Fox to mark the release of Kingsman: The Golden Circle.
A total of 240 bottles are allocated for the U.S. market at a suggested retail price of $900 (750ml/48.2% ABV). It will be sold at select U.S. specialty retailers beginning in early fall 2017.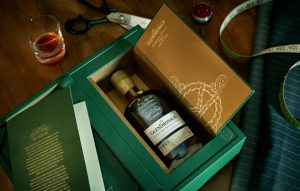 The GlenDronach was personally selected by film director, Matthew Vaughn, for his new Kingsman film as The GlenDronach is his single malt whisky of choice. To create The GlenDronach Kingsman Edition 1991, which marks the birth year of Kingsman agent, Gary "Eggsy" Unwin, only the finest sherry casks were selected by The GlenDronach Whisky Maker Rachel Barrie. Unashamedly Highland and endlessly complex, this rare, limited release shares the Kingsman creed of impossible perfection built on unshakeable tradition.
"A Kingsman is smooth, elegant and packs a punch, as does The GlenDronach—so it felt like the perfect fit," says Vaughn. "I selected the 1991 vintage as it marks birth year of 'Eggsy,' who is also known as Kingsman agent Galahad. It's really special to get a limited edition like this, and even more so as The GlenDronach is my favorite single malt whisky. I hope Kingsman fans around the world enjoy it as much as I do."
Each of the special individually hand-numbered whisky bottles is presented in bespoke, luxury packaging, featuring a custom Kingsman gold metal charm. Both the whisky maker and film director's signatures adorn the bottle's packaging. Deep walnut brown in color, with waves of black grapes on a woody vine on the nose, a ripe Victoria plum on the palate with a lingering and warm finish, the Single Malt is non-chill filtered and, as always for The GlenDronach, of natural color, for authenticity, richness and texture.
The Kingsman Edition 1991 will appeal to film fans and whisky collectors alike. This rare limited edition will be available worldwide and can be purchased in select specialty retailers across the U.S.
"It took over a quarter of a century for The GlenDronach Kingsman Edition to come of age, matured in sherry casks from birth," says Barrie. "As we say at the distillery, 'Cask is King' and this is evident in the taste experience of The GlenDronach Kingsman Edition 1991, which is richly sherried, elegant and full bodied to the last. We hope you agree, that it is whisky fit for a Kingsman."