Vestal Vodka is staking out a bold corner of the vodka market, one defined by rich textures and flavors rarely associated with its ubiquitous brethren. Vestal Vodka is distilled only once to capture and retain the intrinsic aromas and characteristics that give each of their small batches the deep sense of time and place unique to the brand. This practice ensures the singular qualities imparted by the carefully chosen strains of potato, grown in the rich soils of Northern Poland, are kept intact.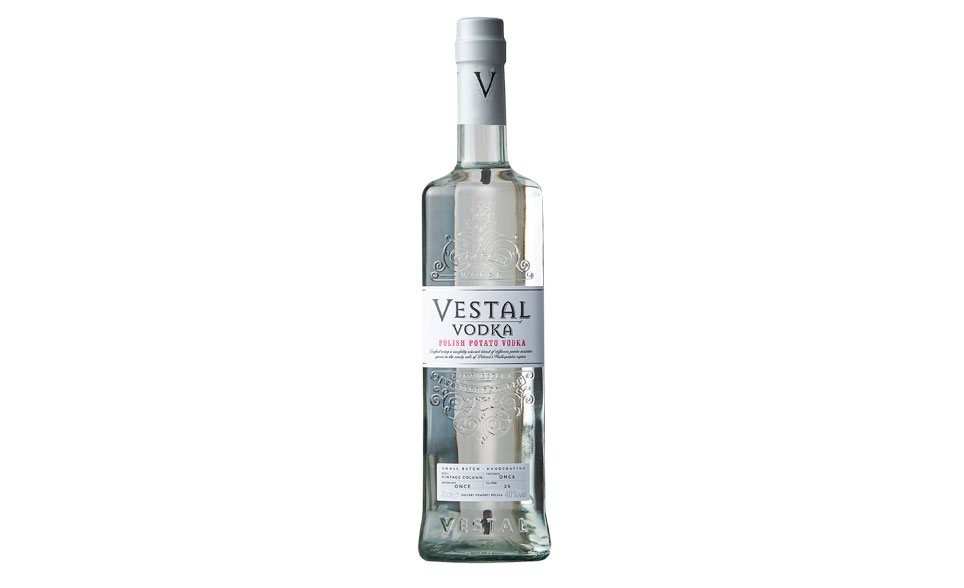 "Once upon a time, vodka from the Slavic lands of its origin had taste, character and a spirit of place," comments William Borrell, founder of Vestal Vodka. "Vestal Vodka is working to reclaim that heritage and eschew the largely tasteless industrial spirit that currently overwhelms the category."
The Vestal Vodka range is spearheaded by the core White Label expression. With this key distillate, Vestal has been able to reestablish the timeless traditions that once defined Polish vodka. Using a mixture of early harvest Asterix, Innovator, and Russet Burbank Potato varieties, responsibly grown on family farms, they are able to recreate the historic vodka once widely produced in the region. Its many accolades include a Double Gold at 2021's SFWSC.
Also currently available is the highly sought after Unfiltered 2015 limited release, winner of a gold medal in 2021 at the IWSC, and earning an unheard of score of 99/100. This coveted vodka is made from a single harvest of young Miranda potatoes and distilled once only in an eight plate hybrid still. This incredibly special vodka was then rested in stainless steel open casks for nearly five years, allowing it to mellow and soften. The Unfiltered vodka presents fruity and creamy on the palate, and a nose rich with plum, pear, and macadamia nuts.
The Black Cherry expression—newest member of the line—uses the famous Polish black cherries harvested near the Vistula River. The cherries are macerated directly in the spirit, creating a pure and complex fruit profile. The bright cherry flavor is followed by delicate notes of chocolate and hints of marzipan. This too earned a Double Gold at the 2021 SFWSC, among other awards.
Vestal Vodka's White Label and Black Cherry expressions are available in a 750ml bottle with an SRP of $19.99 and $20.99, respectively (both 40% ABV, 80 Proof). The limited 2015 Unfiltered Vodka is bottled in 750ml and is available for $27.99 (40% ABV, 80 Proof). All Vestal Vodka products are sold exclusively by Total Wine & More nationwide.