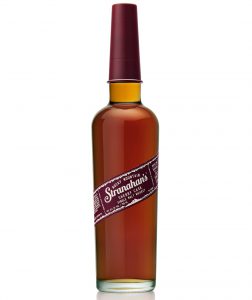 This fall, Stranahan's Rocky Mountain Single Malt Whiskey is announcing a new elevated expression to its line of American single malt whiskeys: Stranahan's Sherry Cask. This special release is the first of its kind for the Denver-based distillery, fusing the Rocky Mountain whiskey making style with the wine making traditions of Spanish Sherry.
As the result of years of experimentation with aging and unique cask finishes, Master Distiller Rob Dietrich developed Sherry Cask by taking his four year-aged Rocky Mountain Single Malt whiskey and transferred it to 500 liter Oloroso Sherry barrels to finish. The barrels are procured from the Andalusia region of southwestern Spain, known to many oenophiles as the Sherry Triangle and one of the world's most coveted wine regions. The barrels have aged sherry wine for over 40 years, leaving behind a depth of flavor soaked into the ancient oak staves. The resulting Stranahan's Sherry Cask whiskey bursts with rich flavors of vanilla, caramel, dark chocolate, and depth of oak.
Stranahan's Sherry Cask is the result of Rob's passion for what he refers to as "coloring outside of the lines" also known as his approach to tasting and analyzing unique barrel finishes, as he does each year when he creates his coveted Snowflake. In a quest to maintain the sacredness of each annual Snowflake release, Rob began to experiment with cask finishing in just one type of wine barrel: the Oloroso Sherry.
Tasting Notes:
Nose: Over-ripe cherry, sweet apples, raisins, almonds, leather and fresh-cut hay
Palate: Honey, Montmorency cherries, blackcurrant and fig, with a nutty brine and walnut characteristics
Finish: Buttery caramel, whipped creme, brown sugar and smoked cayenne
"We tested the Oloroso Sherry cask-finished whiskey last year at our first annual Cask Thief festival and our fans and family loved it," says Rob Dietrich. "That's when we knew we had to bring it to the national market. I'm really excited to add this expression to our lineup of whiskeys and help expand and showcase just how special American Single Malt whiskey is and what it can bring to the world stage."
With over a decade of whiskey making under its belt, Stranahan's Rocky Mountain Single Malt Whiskey is an American Single Malt that comes from the state's first legal whiskey distillery. It is made from 100% malted barley and Rocky Mountain water, making it a unique whiskey unlike anything east or west of the Rockies. Stranahan's is made in small batches and aged for a minimum of two years in new American white oak barrels. Stranahan's Original (Yellow Label) is a marriage of two, three, four and five year-old whiskeys. Stranahan's Diamond Peak is a straight four year-old whiskey. As the largest selling American Single Malt whiskey, Stranahan's continues to pioneer the national effort to promote the American Single Malt category and its place within the international whiskey world.
Stranahan's Sherry Cask is bottled at 47% ABV (94 proof) and will be available nationwide for $79.99 (750ml) at fine retailers nationwide as well as upscale restaurants and bars. It is available for purchase online at www.ReserveBar.com/StranahansSherryCask.