A new premium tequila brand has hit the market – CALIROSA.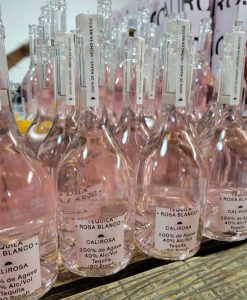 CALIROSA is poised to redefine the spirits category with its unparalleled craftsmanship, uniquely smooth taste, and the blending of two time-honored beverage making processes— Jalisco's tequila craftsmanship and California winemaking.
CALIROSA enters the market with their Rosa Blanco and Añejo tequila ranging from $49-$74.
The Rosa Blanco is finished for 30 days in California red wine barrels, which gives the liquid a distinctive, soft pink hue and a floral-forward flavor profile with hints of cherry and orange peel.
The Añejo is aged in red wine barrels for eighteen months, producing a beautiful rose gold tone with shades of shiny copper, alongside a slightly fruity aroma with notes of cooked agave, chocolate, toffee, and vanilla.
CALIROSA is produced by the Real family within their Kosher-Certified facilities in Amatitán, Jalisco where they have been producing tequila since 1942. Real family patriarchs, Don Roberto and Don Fernando Real, have dedicated their entire lives to the production and commercialization of high-quality tequilas.