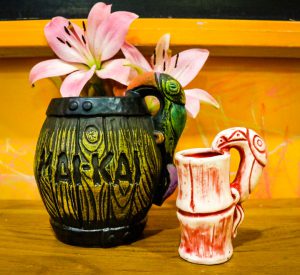 In case you haven't noticed, the cocktail industry is thriving and has been on a steady uphill climb year after year. New spirit distilleries continue to pop up across the globe, seasoned and novice bartenders are staying creative, and thanks to social media, sharing ideas and recipes makes it easier than ever to keep industry folks in the loop. And according to a survey conducted by technology company Morning Consult, which looked at a sample of more than 2,000 adults, more people now prefer liquor drinks over beer and wine.
When new (or old) drinks are trending, it keeps both regular cocktail imbibers and those new to mixed drinks thirsty for creative libations. Pun intended.
Take Tiki-styled drinks. The Tiki bar can be traced all the way back to Donn Beach and Don's Beachcomber bar, which opened in 1933. But if you've kept an eye on Instagram over the past five years, you may have noticed vintage-styled Tiki mugs and bowls popping up on bar and cocktail enthusiasts' feeds. And even though I initially thought that this was "trending" as of late, I was sadly mistaken. As you'll see below, I was quickly corrected by a man who's been in the Tiki game since the 90's. That being said, the reach of Tiki drinks is stronger than ever, with everything from handcrafted mugs, restored recipes, and themed bars.
The Vessel
Before you make your first Tiki drink, you'll need to choose a glass, Tiki mug, or as Danny Gallardo refers to it, "a vessel." Gallardo is the Owner of Tiki Diablo in Los Angeles, California. I became familiar with Gallardo's work after following his Instagram page (@tikidiablo) a few years ago. If you're looking for the guy to create and craft a special vessel for you, look no further.
We chatted on the phone for a while, and he quickly informed me that all things Tiki have been revived for much longer than I had thought. He explained that in the late 90s and early 00s, it was rare to see any place that was cocktail-centric. During this time, Gallardo, Jeff Berry (a tiki connoisseur, beachbumberry.com), and a group of guys would get together at an L.A. bar on Wednesday nights and try to reverse-engineer Tiki drinks. "I came from the art side of it first. I was carving wood Tikis—big eight-foot, nine-foot statues—and was also just starting to make mugs. I thought it was very interesting that they were taking notes and drinking these drinks while discussing this stuff," says Gallardo. "So the Tiki movement had already had its first exposure in 02, 03."
Gallardo's mugs took off locally and stateside, and he was also able to create and ship wholesale to a chain of Home Depot stores. "That kind of helped me out with name recognition outside of the Tiki-world bubble," he says. "We were all the way to Louisiana and [in] over 600 stores. I used that as a launching point for pushing my method."
Gallardo is the sole designer and sculptor in his company. He does, however, have a crew that have been making ceramics since 1980. "I'm a firm believer in surrounding myself with people that are better than I am," he says.
Today, Tiki Diablo's mugs are international. "We're doing a lot of work with distilleries that are not U.S.-based; ones that are appreciating what we're doing," says Gallardo. "We design and make unique mugs for every single client. No client gets the same design; everything is from scratch.
"A lot of stuff that I make is brand-centric. What people decide to do with the mugs is up to them, which makes a lot of my stuff hard to get. This year we're going to focus on putting an emphasis on buying mugs that you can get directly from our website."
Tiki Diablo also makes customized mugs for bars and restaurants. Gallardo has made mugs for Jeff Berry's world-renowned Latitude 29 in New Orleans as well as Chicago's famed Three Dots and a Dash.
What Gallardo does see as currently trending in the Tiki world is collecting these one-of-a-kind mugs. For example, Three Dots and a Dash sold out of 400 Tiki Diablo mugs in a matter of days.
"You have to have mugs [when selling Tiki drinks] as a part of your business plan now. Nowhere else are you going to clear up to $80-$100 off of one item on your menu—pure profit," says Gallardo.
He cites the example of Phoenix, Arizona's subterranean cocktail bar, UnderTow, "They order back-to-back, they sell everything out, and as they're making their final payment, they ask me 'okay, what's next?' It's a huge component in sales and income for bars now—getting the mugs going and moving on to the next ones."
Gallardo says most bars even have mug release parties. "People are lining up the morning of to make sure that they get a mug," he says.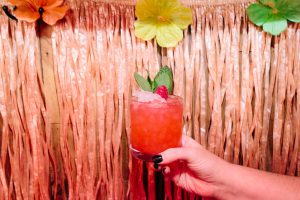 And what does Mr. Tiki Diablo drink in his vessels? "I'm a classic Mai-Tai guy; I love a Daiquiri too," says Gallardo.
The Cocktails
Even if you have exquisite glassware and mugs from Gallardo, you're still going to have to make sure that it's what's inside that counts.
If you're adding Tiki-style drinks to the menu for the first time, I recommend sticking to the classics. This works for a few reasons: just like with other classic drinks (i.e., Old-Fashioneds, Sours, etc.), perfecting them and seeing why they work is crucial information to have before creating your own.
Having a custom Tiki mug with an unbalanced, overly sugary concoction will surely lead your program to failure. Take the Daiquiri, for example—if you or your bartenders cannot make a balanced Daiquiri, then it's highly likely that the rest of your cocktails are unbalanced as well.
The second reason to start with the classics is kind of a no-brainer: your guests' eyes will gravitate towards cocktails like Mai-Tais and Singapore Slings. Using fresh juices, making your syrups from scratch, and incorporating island spices are good starting points when crafting these cocktails.
I was able to chat with Lexy Durst, Bar Manager at MG Road, one of my favorite bars in Asheville, North Carolina. MG Road is not a Tiki bar, but along with having a great atmosphere (best music, to boot) and friendly bartenders, they do embrace Tiki culture.
"While we don't have a recurring 'Tiki night' here, it is a theme that we love to revisit as often as possible," says Durst. "So far, we have done two annual 'Freaky Tiki' pop-ups featuring a specialty cocktail menu, Polynesian-style food, a popular surf rock band called The Krektones, and more. On both occasions, we featured a large-format cocktail called The Bermuda Triangle, which was only available to one group of 8-10 people and was served inside of a glow-in-the-dark aquarium. At MG Road, our approach to Tiki is sometimes silly and always fun."

Even though it's not Tiki Night every night at MG Road, island-style drinks do frequent their eclectic and ever-changing menu. This has led to their guests pining for more "funkier rums" (which is right up my alley—see the recipe to the left featuring Smith & Cross Rum).
"Due to our sizable rum selection, people are starting to let their curiosity wander and are branching out even further with rhum agricoles and overproof rum cocktails," says Durst.
"I teach monthly bartending classes at MG Road that are open to anyone with or without bar experience, and the first cocktail I always teach when describing a well-balanced drink is the daiquiri. It is, in my opinion, the perfect cocktail. I would, therefore, recommend that if a bar or bartender is interested in developing more Tiki drinks, perfecting the basics is the most important place to start!"
See! Daiquiri for the win! Not to overstate the importance of the Daiquiri, but unfortunately it cannot be said enough.
When creating your own riff on classics, you may substitute different rums, modifiers, and/or juices. Inspiration comes in many forms, but for me, it's usually an on-the-spot thought; some of my favorite creations have come on a whim, and my recipe, An Ode to No One, is no different.
A few years back, I had just finished a twelve-hour shift and was tired. I really craved something strong but not spirit-forward. I ended up grabbing a few of my favorite spirits and juices, and An Ode to No One was born (see the recipe at right).
By Tony Cross
Photos (top to bottom): Tony Cross, Lexy Durst.