KURVBALL, The Original Barbecue Whiskey™ is making its way into backyards and back bars across the country. Made for the love of BBQ, KURVBALL combines the savory, sweet, smoky heat of slow and low barbecue with American whiskey. Often described as tasting of ribs or BBQ chips, KURVBALL Whiskey is 34% ABV (68 proof), gluten free, and proudly made in the USA.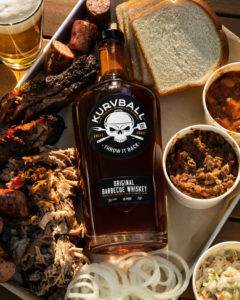 KURVBALL is best enjoyed as a cold shot alongside a cold one or straight outta the bottle like BBQ sauce. For the brunch crowd, substitute KURVBALL for vodka in your favorite bloody recipe to make the BBQ BloodyTM  (AKA: the bloody to ruin all others). For the Old Fashioned whiskey drinkers, just add bitters and an orange peel to make a BBQ Old FashionedTM . KURVBALL can even be used for cooking to make marinades and glazes. Last but not least, pair KURVBALL with some friends, family and a couple of strangers – because barbecue is a get together.
THE KURVBALL WHISKEY COMPANY launched its flagship product in October 2021. KURVBALL Barbecue Whiskey comes packaged 6 – 750MLs to a case (SRSP of $24.99) and 50mls – 60 to a case.